Winter Olympics: Russian appeals against Pyeongchang exclusion decided on Friday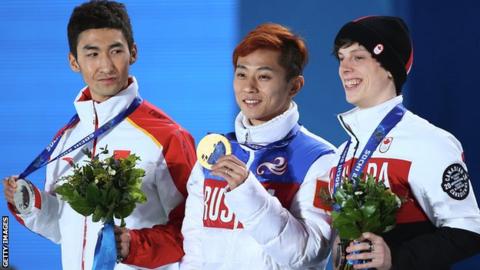 XXIII Olympic Winter Games
Venue: Pyeongchang, South Korea Dates: 9-25 February
Coverage: Watch live on BBC TV, Red Button, Connected TVs, BBC Sport website and mobile app
A decision on whether 47 Russian athletes and coaches can take part in the Winter Olympics will be made on Friday - the day the Games start.
They say they have been wrongfully excluded from Pyeongchang by the International Olympic Committee (IOC).
The group includes 28 athletes who had their life bans lifted by the Court of Arbitration for Sport (Cas) last week.
A Cas panel will announce its decision at 11:00 in South Korea (02:00 GMT), nine hours before the opening ceremony.
What are the Russians appealing against?
The IOC invited 169 Russians to compete as independent athletes in Pyeongchang after their country was banned from the Games.
That ban followed an investigation into state-sponsored Russian doping at their home Games in Sochi in 2014.
The IOC also banned 43 Russians for life from the Olympics following a further inquiry.
But last week Cas overturned 28 athletes' suspensions and partially upheld 11 other appeals.
Thirteen of the 28 - and two coaches - asked to be allowed to compete in Pyeongchang but were turned down by the IOC.
A special IOC panel "agreed the decision of the Cas had not lifted the suspicion of doping".
IOC president Thomas Bach said: "The absence of sanctions by Cas does not mean that you are entitled to receive an invitation from the IOC because receiving this invitation is a privilege of clean Russian athletes."
Thirty-two athletes took their appeals to Cas on Tuesday and were joined by a further 15 athletes and coaches on Wednesday.
Among them are multiple Olympic champion speed skater Viktor Ahn and biathlon gold medallist Anton Shipulin. Neither has previously served a doping ban.
Another 13 athletes and support staff separately challenged the IOC's refusal to invite them to the Games on Thursday, but a Cas panel quickly ruled it "lacked jurisdiction" on the matter.
In December the IOC said Russian athletes who proved they were clean would be allowed to compete as neutrals in the Games.
The Olympic Athletes of Russia OAR will compete under the Olympic flag and the Olympic anthem will be played at any medal ceremonies they feature in.