Winter Olympics: 'I thought email was spam, now I'm an Olympian'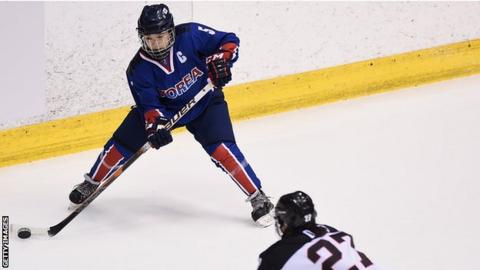 A Canadian medical student who thought an ice hockey recruitment email was just spam is part of a historic Olympic team.
Caroline Park, whose parents are South Korean, was working as a laboratory assistant in New York in 2013 when she received the trial invitation.
Now Park is part of a combined Team Korea formed after North and South Korea agreed a deal to compete under the same flag at the Pyeongchang Games.
"It will be a great moment," she said.
It is the first time the neighbouring countries have competed together in the same team at an Olympic Games.
The nations reached the agreement after the first high-level talks between them in more than two years, prompted by North Korea's offer to send a team to the South Korean games, which start on Friday.
The agreement has been interpreted as a show of reconciliation at a time of heightened tension over the North's nuclear ambitions.
"The team has been great about our objectives of playing well at the Olympics and just trying to make it as cohesive as possible," said Park, who played 102 times for Princeton Tigers.
"It's actually made it more fun. We have 12 new players who can become team-mates and it's been so great to meet these girls, hear their stories and play some hockey with them."
Park, who was raised in Toronto, did not initially believe that an email asking her about playing for the South Korean hockey team was genuine.
"I initially thought it was spam, I didn't think it was real," said the highly rated former College ice hockey player.
"Then I found out that another girl I knew who plays hockey in Canada got a similar email and I thought 'OK maybe it's legit'.
"I responded and within a week I was flying out there and skated with the team for about two weeks, and after that they got the ball rolling with getting me citizenship to play with the team officially.
"When I initially went out there it was not with the intention of playing at the Olympics but it is definitely a dream come true."
She admitted the last-minute decision to field a unified team initially caused confusion among her team-mates.
"I think it was hard to not jump to conclusions because we didn't know all the details," she said. "But after we found out what it entailed the team was great about embracing it and making the most of it."
The South Korean players will stay in a different part of the Olympic village than their North Korean team-mates, but are otherwise encouraged to bond.
"We'll see them at meals - we eat together but they stay in a different apartment," she said.
"We're on the ice together, in the locker-room together and we're immersed."
South Korea's hockey coach and conservative newspapers in the country have expressed concern about the prospect of a united hockey team, saying it could damage South Korea's chances of winning a medal.
"I heard about some of the protests but our team has been very accepting of it and we're making the most of it," she said. "Honestly I think we can compete and do well in our division.
"For me it's a great opportunity to gain exposure for ice hockey in South Korea.
"Some South Koreans don't even know we have a national team so it's a good stage to grow the sport and get more young girls interested in hockey."