Winter Olympics: Russian Semen Elistratov dedicates medal to compatriots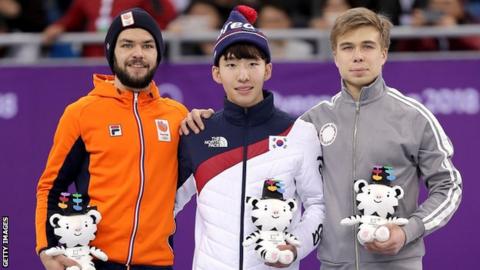 XXIII Olympic Winter Games
Venue: Pyeongchang, South Korea Dates: 9-25 February
Coverage: Watch live on BBC TV, Red Button, Connected TVs, BBC Sport website and mobile app. Full coverage times
A Russian speed skater dedicated his country's first medal of the Winter Olympics to his compatriots who have been banned from the Games in "such a hard and unfair way".
Semen Elistratov won bronze for the Olympic athletes from Russia (OAR) team.
His comments could be interpreted as breaking the rules over making political statements.
Russia are banned from competing at the Winter Olympics but 169 of their athletes are allowed to compete as neutrals under the OAR team banner.
After winning his bronze on the opening day of the Games in the 1500m short-track speed skating event the 27-year-old said: "I have difficulties to hold back my tears. I had said before that any individual medal will be a golden or platinum one for me. I am incredibly happy that I did it, in spite of all the circumstances around Russian sport.
"I dedicate this medal to all guys that have been excluded from these Games in such a hard and unfair way. This medal is for you."
Russia were banned because of state-sponsored doping at the 2014 Games in Sochi.
The International Olympic Committee (IOC) will rule on his comments at the end of the Games.
"We have a surveillance programme looking at the action and behaviour of the OAR team and they will report back at the end of the Games to the executive board to see if not just the letter but the spirit of the law has been breached," IOC spokesperson Mark Adams said.
"It's for that expert team to look at it."
To be eligible to compete athletes representing OAR must adhere to strict guidelines set out by the IOC, including to "respect the IOC Executive Board's decision and spirit".
Other conduct guidelines include; only referring to the delegation as Team OAR, understanding that the team will compete under the Olympic Flag and that the Olympic anthem will be played at all ceremonies and also refraining from any public form of publicity, activity and communication associated with the national flag, anthem, emblem and symbol.