Winter Olympics: Russia may be banned but that isn't stopping fans
Last updated on .From the section Winter Olympics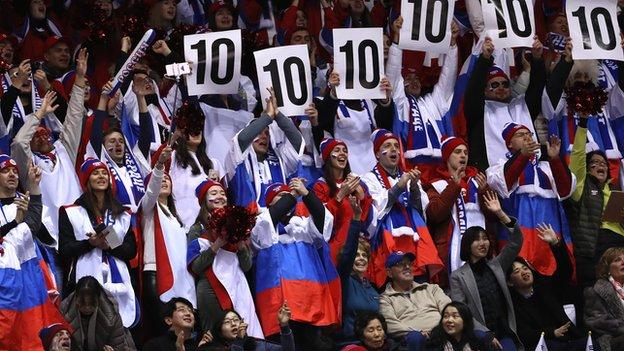 The Russian flag may not feature on the Pyeongchang 2018 medal table, but that hasn't stopped this lot.
Despite the International Olympic Committee's ban on Russian athletes competing because of doping violations, more than 100 fans dressed in red, white and blue made themselves heard in the Gangeung Ice Arena during the first couple of days at the Winter Olympics.
They were there to cheer on the "Olympic athletes of Russia" (OAR) - the 168 nationals competing as neutrals.
But there was nothing "neutral" about these fans.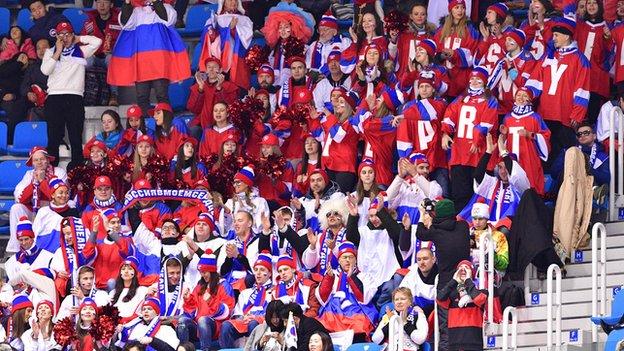 The IOC's ban states the OARs must adhere to a strict code of conduct and are expected to "refrain from any public form of publicity, activity and communication associated with the national flag, anthem, emblem and symbol" at any Olympic site.
These rules evidently don't apply to spectators.
Russian figure skater Ekaterina Bobrova said on Sunday that the passionate support of her compatriots in the crowd made her "feel at home".
"Today the backing was absolutely huge, we could see our citizens with flags and singing songs in Russian." she added.
"It was crucial."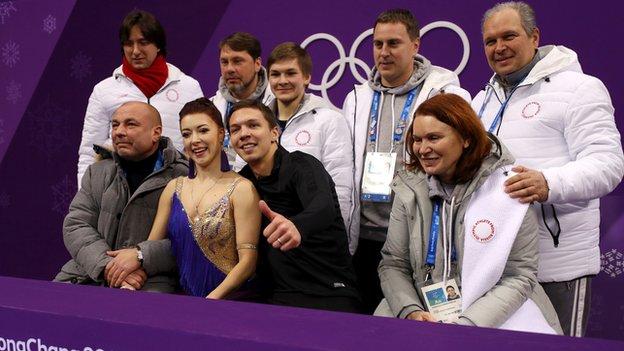 It comes after OAR speed skater Semen Elistratov dedicated his country's first medal of the Games to his compatriots who have been banned in "such a hard and unfair way".
He is now under investigation from the IOC for those comments.
The ban on Russian athletes includes sharing or posting any such images or messages on social media.
However, the IOC says athletes will be allowed to display the Russian flag in their bedrooms, so long as it is not publicly visible.
Russia has provided a fan house in South Korea for its supporters to celebrate OAR success.
The venue is decorated with cardboard cut-outs of hockey players from the legendary Soviet Union team of the 1980s and pictures of current and retired Russian athletes.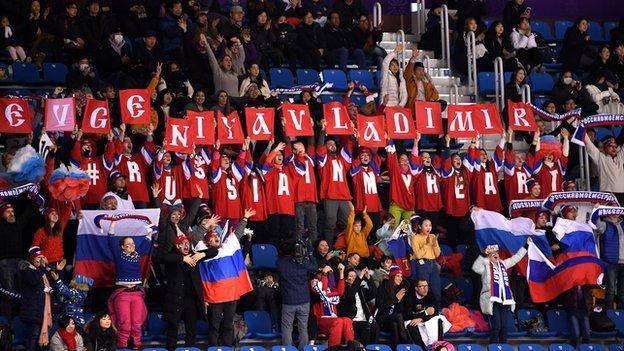 "We are all Russian patriots, all athletes. It doesn't matter what we are called: Olympic Athletes from Russia or Team Russia. It doesn't matter because our homeland, it's Russia," said former figure skater Maxim Trankov, who was a double gold medallist in Sochi 2014.
BBC Sport's David McDaid was in the arena and spoke to 18-year-old double world champion Evgenia Medvedeva after her performance for OAR in the women's singles ice dance.
"She said she could hear the cheers while she was competing and looked emotional. She said 'they know who I am and where I'm from'."
It's safe to say these fans made it clear where they were from too.