Winter Olympics: Five reasons to watch Elise Christie today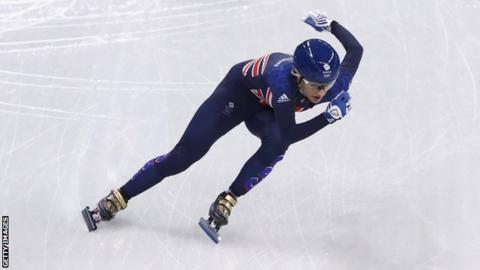 XXIII Olympic Winter Games
Venue: Pyeongchang, South Korea Dates: 9-25 February
Coverage: Watch live on BBC TV, Red Button, Connected TVs, BBC Sport website and mobile app. Full coverage times
When you walk into the office or school today, or have a quick scroll through your Twitter timeline, you'll probably hear Elise Christie mentioned quite a bit.
The short track speed skater is competing for her first Olympic gold medal today in the 500m, and best of all, she's British.
So, if you're yet to catch up on all the buzz around this year's Games, today is probably the best day to get involved.
Here are BBC Sport's five reasons why you should make a point of tuning in to the skating star.
1. Elise Christie is British
The 27-year-old Scottish skater is one of Team GB's best hopes for a medal in Pyeongchang, so it makes perfect sense to get behind one of our own and cheer her on.
We love nothing more than to root for home-grown talent, so join in the hype and you won't regret it. Plus, read the next reason on this list and you'll realise why it's so important she gets that classic British backing.
2. She has the ultimate comeback story
Cast your mind back to the last Winter Olympics in Sochi four years ago. Christie was disqualified in all three of her events and suffered online abuse and death threats after a collision with a South Korean skater.
After making her Olympic debut at Vancouver 2010, the Scot used therapy to overcome her struggles following Sochi, and is ready and raring to go for her ultimate comeback in South Korea.
Christie finally has the chance to write a happier chapter in Olympic history, entering these Games with medal potential at all three distances - 500m, 1,000m and 1500m.
Christie is well aware that the home crowd will be against her in the sport's spiritual home - all the more reason to get behind her.
3. If she wins, it will be her first Olympic medal
As per reason number two, Christie will be hoping to clinch the first Olympic medal of her career. She's the world champion and world record holder over 500m, so theoretically, it should be plain sailing for her.
Christie won her 500m short track heat in an Olympic record time of 42.872 seconds during Saturday's qualifying (although that record only lasted a few minutes).
But anything can happen - just look back to Australia's first Winter Olympics gold medal in Salt Lake City, Utah, USA in 2002.
Steven Bradbury became the first Australian to win a Winter Olympic gold when all of his opponents were involved in a collision on the very last corner and he was able to avoid them to skate over the line for victory.
4. It's actually on at a sociable time of day
South Korea is nine hours ahead of the UK, meaning the majority of the action is happening as most people are tucked up in bed. That means, unless you're a diehard Olympic fan, you've probably missed most of the excitement so far.
Well, we have a proposition for you. Christie's quarter-final is scheduled for 10:02 GMT, the semi-finals start at 11:11 and the final is due at 12:09.
So, cancel that work meeting, rearrange your social calendar, tell your mum you can't make that brunch date you'd arranged weeks ago - basically, stop whatever you're doing and switch the telly on. Even if you only watch one thing over the Games (we won't judge, promise) make it this.
BBC TV, radio and online coverage times
Confused? Here's our sport-by-sport guide
Inspired? Find a winter sport activity near you
What's on: Full schedule and results
Medal table: By country & by sport
5. It will be a major talking point
When you walk into the office this morning or catch up with your friends, they might ask if you're watching the race. Say no, and eyebrows will be raised. Say yes, and impress your peers.
There will be opinions, stats and tweets about it all over social media. Basically, it's highly likely that you'll come across Christie's name at some point during the Games - and who wants to be left out of the conversation?
If you're yet to catch "Olympic fever", we're warning you: today will be the day.