Winter Olympics: Fans taken on emotional Christie rollercoaster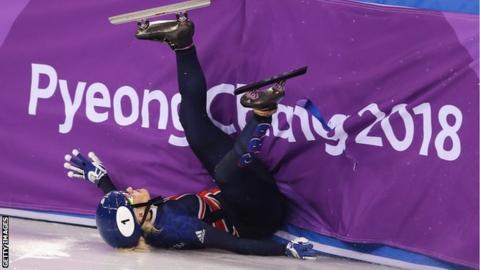 Elise Christie was aiming for her first Olympic medal.
After the heartbreak of the Winter Olympics in Sochi four years ago, and the subsequent fallout, the pressure was truly on for Britain's best hope of a medal.
But the fairytale just wasn't meant to be, with fans at home and in South Korea well and truly taken on an emotional rollercoaster.
It was an exhilarating morning, which began with the Brit setting an Olympic record after an impressive quarter-final which saw her complete the 500m in 42.703 seconds.
But despite a convincing result, it was still one of those *watch-through-your-fingers* moments for many, including Olympic hockey champion Helen Richardson-Walsh and former Team GB and Scottish 400m athlete Lee McConnell who were rooting for the Brit...
Soon enough, the buzz around Team GB's biggest chance of having a medallist this Games started to take its toll...
But the British dream was able to continue for a little bit longer, giving us all hope...
Next up came the semis, which resulted in a nail-biting photo finish which saw Christie finish in second place by an agonisingly close 4cm.
Clinching a place in the final sent social media into overdrive...
Somehow, we think "Olympic fever" has hit you all... Welcome to the club!
In case you were wondering how poignant this final was for Elise Christie...
And then came the final...
But sadly, more Olympic heartbreak was on the horizon...
Thankfully, the 27-year-old has two more chances at securing a medal later on in the Games during the 1000m and 1500m races.
We give you all permission to take a lie down after that. It's been an emotional morning.
Keep smiling, Elise!