Winter Olympics 2018: Are GB's skeleton suits giving them superhero speed?
By Saj Chowdhury
BBC Sport
Last updated on .From the section Winter Olympics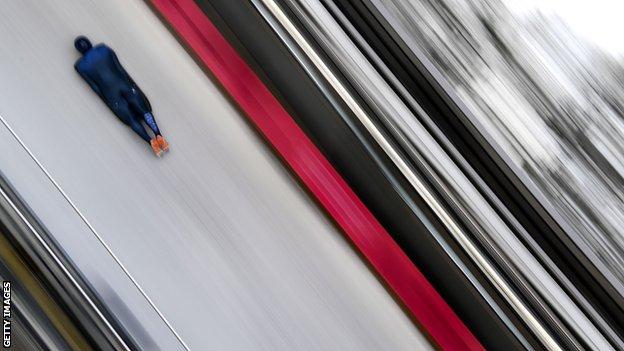 Step aside Black Panther, Great Britain's sliders have new hi-tech suits that have turned them into skeleton superheroes in Pyeongchang.
OK, slight hyperbole, but the fast times posted in training by three of our intrepid heroes - defending champion Lizzy Yarnold, team-mate Laura Deas and men's slider Dom Parsons - have had the skeleton fraternity asking whether their new attire has played a part.
Those complaints prompted the sport's governing body to clarify that the suits were legal.
It said: "The International Bobsleigh and Skeleton Federation currently checked race suits of the British skeleton team. There were no rule violations at the presented suits."
The items in question, developed by scientists at a company in Northampton and by the English Institute of Sport, have special drag-resistant ridges.
Good aerodynamics is obviously key in an event where you are hurtling down a long sheet of ice on a metal tray at about 80mph - it's not a case of every second counts, more like every 100th of a second.
So have the suits been solely responsible for helping the British trio top the times during some of the training runs? It's worth bearing in mind that in the recent World Cup series, Deas and Yarnold were seventh and ninth overall respectively, while Parsons was 12th in the men's competition.
Skeleton clothing rules - International Bobsleigh and Skeleton Federation (2017)
No aerodynamic elements whatsoever may be attached either outside or under the race suit
Race suits must be manufactured from an uncoated textile
The funding received by GB's skeleton team for this Olympic cycle was £6,549,617 - almost double the amount for the four years leading up to Sochi 2014.
Some of that has been used to develop innovation, although Danny Holdcroft, British Skeleton's current performance director, said other countries have a similar budget.
"We invest in technology, and still have Rachel Blackburn [formerly of McLaren, now a consultant engineer] helping design sleds, as well as the research and innovation team at the English Institute of Sport," Holdcroft told Eurosport.
"But I can categorically say that other countries invest as much in their equipment as us."
The case for the prosecution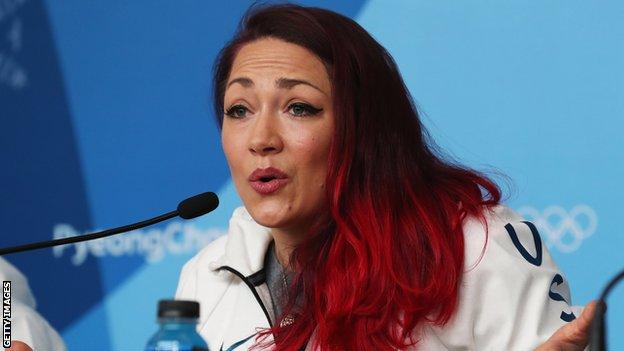 That Team GB statement might not placate some of the dissenters, such as USA slider Katie Uhlaender. A tweet from her Twitter account linked to Monday's Guardian article about the British team's new attire.
The tweet said: "Read this article and then based off of what it says see if these suits seem legal? Cause #IDONT know? No aerodynamic elements whatsoever and uncoated..."
After Wednesday training runs, Uhlaender, who was 12th overall in the World Cup, told the media that somebody else was in charge of her social media account but then added, "If you see something that is questionably illegal, it is OK to ask."
BBC Sport contacted USA's Bobsled & Skeleton to ask what it thought about GB's suit. Its CEO Darrin Steele suggested that mind games might be at play.
He said: "The rules are clear that there can't be any aerodynamic elements attached to the suit, and we don't expect to see any on the British speedsuits in the race.
"Athletes from various nations are talking about the British suits instead of focusing on the upcoming races. A large part of this sport is mental strength. It's about who can throw down despite distractions, and we'll see who comes out on top over these next few days.
"The timing of the article [referring to The Guardian piece] was perfect and a smart strategic move by the British team."
Jacqueline Lolling, Germany's world champion and World Cup winner, suggested in a sport like skeleton it was gaining an edge over rivals in whatever legal way possible.
She said: "I don't know what they have really for suits but I think every athlete (here) has a secret more than in the other races."
The case for the defence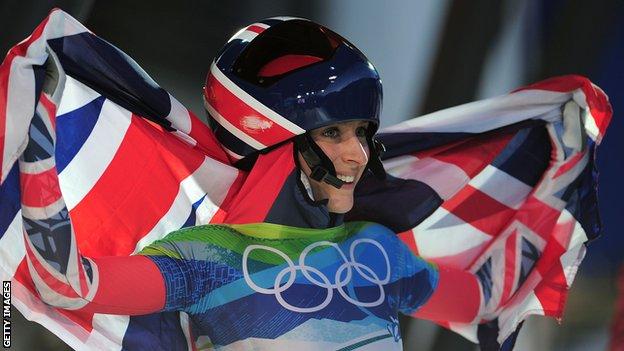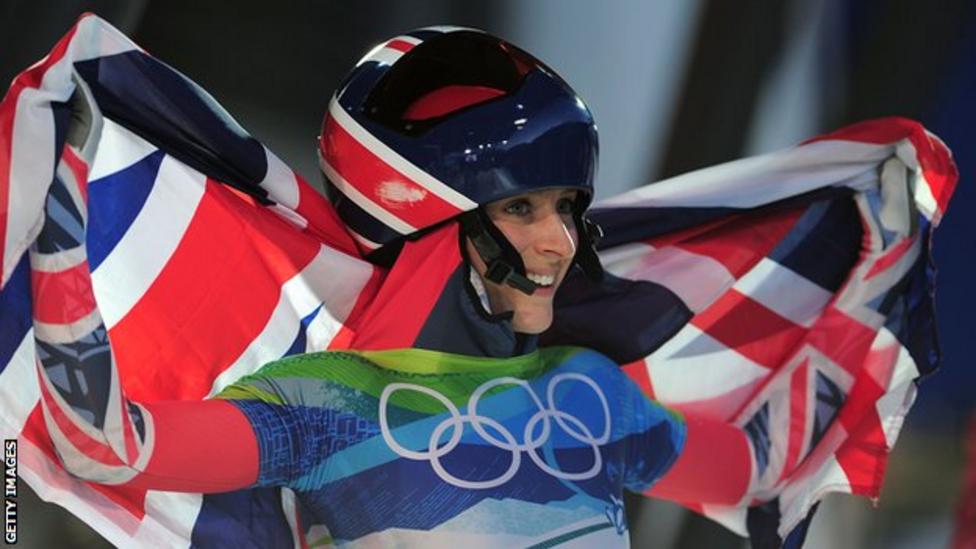 Amy Williams faced similar scrutiny when she won Great Britain's first ever gold in the event, at the 2010 Winter Olympics.
Both the Canada and USA teams protested about the aerodynamics of the helmet worn by the Briton. Both complaints were rejected.
Williams told BBC Sport: "There was a protest after I'd won gold about my helmet.
"It was horrible because my closest friends in the sport for the previous 10 years thought we were trying to cheat.
"I knew everything was OK and wasn't worried about the protest because the helmet had been cleared by the jury. But it was still gut-wrenching to think that athletes and coaches were viewing me in that way."
Williams believes that the suits do not actually give the British sliders much of an advantage.
She added: "Everyone tries to think out of the box to gain a competitive advantage, but in reality I don't think the innovations make that much difference.
"We all do it, because even If it gives you 0.01% of an advantage, why wouldn't you?
"In reality, the athlete who has a great push, doesn't make mistakes and puts four consistent runs together will be crowned Olympic champion"
Additional material provided by BBC's Anna Thompson in Pyeongchang
The men's four-run competition begins on Thursday and concludes on Friday, and the women's event begins a day later and finishes on Saturday. Watch all the coverage on the BBC.