Winter Olympics: The skier who brought his late brother with him to Pyeongchang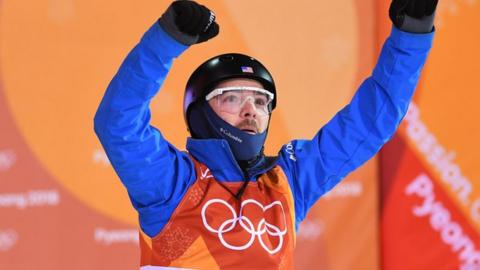 The Lillis family, (a.k.a "Team Lillis"), had dreamed of one day watching all three brothers, Jonathon, 23, Chris, 19, and Mikey, 17, compete in the Olympic aerials competition.
However, in October 2017 their dream was shattered as youngest brother Mikey died suddenly in his sleep. His death is still unexplained.
Eldest brother and world champion Jon may have missed out on a medal but he showed undeniable strength during the final on Sunday in Pyeongchang.
In a poignant gesture, he had Mikey's old Team USA ski suit shipped out to South Korea so he could wear it as a tribute to his little brother.
The family have also had some of Mikey's ashes encased in a glass pendant which Jon wore during the opening ceremony.
"It was all of our dreams to compete in the Olympics together, and knowing that he never got the chance … it felt like the best way to give him that experience," Jon told USA Today.
"In the past few months I have learned how hard life is and you have to make the most of every day," said Jon after the final.
He says Chris, who is out of action with a damaged anterior cruciate ligament, could join him for the Beijing 2022 Winter Olympics.
"He can compete with these guys out here," he said. "Team Lillis will keep on going and in four years' time it will be a whole different story."