Winter Olympics: Petition calls for ban for South Korean speed skater 'bullies'
Last updated on .From the section Winter Olympics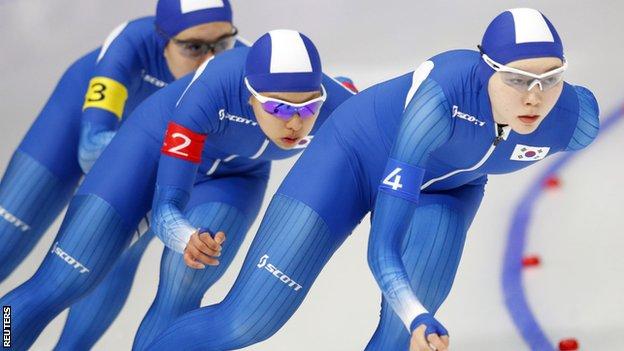 XXIII Olympic Winter Games
Venue:
Pyeongchang, South Korea
Dates:
9-25 February
Coverage:
Watch live on BBC TV, Red Button, Connected TVs, BBC Sport website and mobile app.
Full coverage times
More than 350,000 people have signed a petition calling for two South Korean speed skaters to be banned after they were accused of "bullying" a team-mate live on national television.
South Korea finished seventh in the 500m team pursuit heats on Monday, failing to qualify for the semi-finals.
Kim Bo-reum blamed team-mate Noh Seon-yeong for their poor performance.
"We were skating well," said Kim. "But the last skater [Noh] couldn't keep up and we had a disappointing score."
Fellow skater Park Ji-woo added: "I was very shocked when I crossed the finish line, because that's when I realised Noh was not with us."
Rankings in team pursuit events are decided on the time the third skater in each team crosses the finish line, but Noh was left behind by her team-mates and finished almost four seconds adrift.
Television footage showed Noh bursting into tears after the race, but Kim and Park appeared to ignore her.
The petition, posted on the official website of South Korea's presidential office, read: "It is a clear national disgrace that such people with a personality problem are representing a country in the Olympics.
"We are petitioning that Kim Bo-reum and Park Ji-woo forfeit their rights as national athletes and be banned from international competitions including the Olympics."
Kim has since apologised for her comments, saying: "I did an interview the previous day, and I apologise for hurting the feelings of many people.
"It is my fault that I failed to keep track of team-mates behind me."
However Kim's sponsor, sportswear manufacturer NEPA, will reportedly not be renewing her contract when it expires at the end of the month.
How South Korean media reacted:
The Korea Herald: "South Korea's female skaters under fire for bullying."
The Korea Times: "A team that wasn't - fans raise eyebrows at immature team pursuit racers."
Additional reporting by BBC Monitoring.