Winter Olympics: Britain 'spending too much on winter sports', says Eddie the Eagle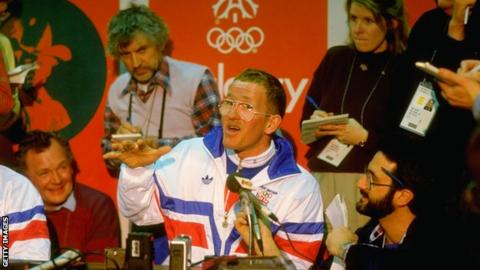 Britain's sport funding bodies spend too much money on Winter Olympic events, says Eddie 'the Eagle' Edwards.
Edwards became the first competitor to represent Britain in Olympic ski jumping at the Calgary Games of 1988.
He was working as a plasterer when he qualified, entirely self-funded, and finished last in the 70m and 90m events, but his exploits against the odds saw him become a household name.
"Britain aren't a Winters nation," he told BBC Radio 2's Jeremy Vine show.
"I can agree with people who think: should we be spending this kind of money, especially on winter sports," he added.
"While we should be supporting our athletes we shouldn't be spending tens of millions of pounds on trying to keep up with the Austrians, with the Swiss, with the Germans, who have got the snow and the facilities.
"It shouldn't be an open wallet and spending tens of millions of pounds just to try and compete with them when it's going to be very difficult.
"I think we're spending too much in our sporting arena, but good luck to our athletes anyway."
UK Sport provided about £28.4m in funding for British Winter Olympic athletes in the lead up to this month's Games in Pyeongchang.
A further £3.9m was provided to support athletes competing at the Winter Paralympics, which begin on 8 March.
UK Sport allocates its funding to sports it believes have the best prospects of winning Olympic medals.
The total of about £32.3m for Pyeongchang was almost double the total it provided for Sochi 2014 (about £17.8m), where Britain equalled their record medal haul of four, set in 1924.
UK Sport predicted a total of between four and 10 medals for Britain at Pyeongchang 2018, but set a target of at least five. Britain have won four medals so far in South Korea - one gold and three bronze.
'Inspiring the nation'
UK Sport responded to Edwards' comments, saying its mission is to "inspire the nation" with Olympic and Paralympic success.
"We don't discriminate between winter or summer or Olympic or Paralympic sports or athletes." UK Sport told BBC Sport.
It said winter sports are becoming "more accessible" with dry slopes and snowdomes, and the talent identification programme which discovered skeleton racers Lizzy Yarnold and Laura Deas, who won gold and bronze respectively in South Korea.
The £28m investment to send a team of 59 athletes to Pyeongchang, is according to UK Sport, equivalent to funding the athletics or rowing team at Rio 2016, teams that had a similar number of athletes and medal targets.
It added that the investment model is reviewed every four years.