Winter Olympics: Russia curler Alexander Krushelnitsky stripped of bronze for doping
Last updated on .From the section Winter Olympics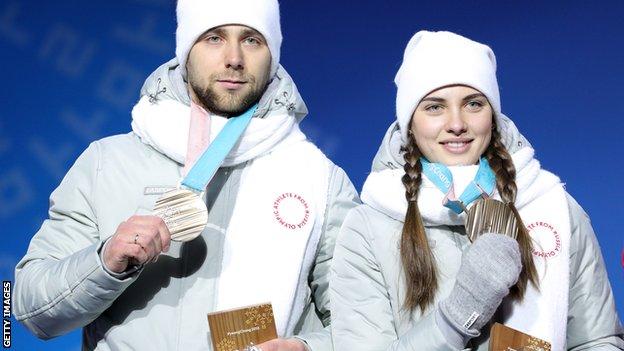 Russian curler Alexander Krushelnitsky has been stripped of his Winter Olympics bronze medal after being found guilty of doping.
The 25-year-old was one of 168 Russians allowed to compete as neutrals at the Games despite the country being banned for previous doping offences.
Krushelnitsky, who won mixed-doubles bronze with wife Anastasia Bryzgalova, tested positive for meldonium.
The Court of Arbitration for Sport said he admitted the anti-doping violation.
With Krushelnitsky and Bryzgalova's third place annulled, when the bronze medal is officially reallocated it will go to Norway.
The International Olympic Committee banned Russia from this month's Games in Pyeongchang, South Korea over "systemic" doping at Sochi 2014, which Russia hosted.
But athletes who could prove they were clean were allowed to compete as Olympic athletes from Russia (OAR). The team of 168 was the third biggest behind Canada and the United States.
On Tuesday, the OAR team said a criminal investigation had been opened into Krushelnitsky's positive test.
It said there was "no evidence of the systematic usage of meldonium", and that he returned a clear sample on 22 January, when the team's curlers were tested before flying out to South Korea.
It added that "unbiased results" of the analysis of Krushelnitsky's samples showed a concentration of meldonium "indicative of taking it once" which would be "absolutely useless and ineffective in the context of enhancing physical performance or sports results".
Meldonium, a substance that increases blood flow and improves exercise capacity, was added to the World Anti-Doping Agency banned list in 2016.
Analysis
BBC sports news correspondent Alex Capstick in Pyeongchang
In the end, the verdict was a formality. There was no alternative once Krushelnitsky accepted a doping violation had been committed, despite his claims that it wasn't deliberate.
So how will the ban influence the IOC's decision on whether to lift Russia's suspension? We only know that it will be one of a number of factors taken into account by an implementation group which has been monitoring the behaviour of OAR competitors during the Games.
It is chaired by Nicole Hoevertsz, a former synchronized swimmer from Aruba, who made it clear that anything is possible. "We're not excluding any options," we were told as she was whisked through the lobby of the IOC's hotel.
So what are those options? Apparently it's not a simple yes or no. It seems a partial reprieve is also on the table, whatever that means.
And what to make of a meeting on Wednesday between IOC leader Thomas Bach and Russian government official Igor Levitin, who also happens to be an aide to president Vladimir Putin? The IOC stressed the discussion lasted four minutes and was to congratulate Levitin on his birthday, but it also came hours before Krushelnitsky's agreement not to contest the doping charge.
Members of the IOC's executive board have been reluctant to express their opinions until they have seen the final report. But what is clear is that their ruling on Saturday is becoming increasingly difficult to predict.