Winter Olympics figure skating: Tied scores, talent shows and no hot water
Last updated on .From the section Winter Olympics
XXIII Olympic Winter Games
Venue:
Pyeongchang, South Korea
Dates:
9-25 February
Coverage:
Watch live on BBC TV, Red Button, Connected TVs, BBC Sport website and mobile app.
Full coverage times
The slightest wrong move, or a landing just an inch off can be the difference between first and second. The cruel-hearted reality of a stunningly mesmerising sport.
This is figure skating - in which all your Olympic hopes and dreams can come crashing down with a simple misplaced blade.
Of course, most of the time skaters execute near-perfect performances, gliding their way effortlessly over the ice barely batting an eyelid.
Sometimes they might think their routine is sure to earn them a gold medal, until another skater gets exactly the same score.
Enter the women's single figure skaters...
First it was the turn of Alina Zagitova - competing for the Olympic athletes from Russia.
The 15-year-old was aiming to become the second youngest women's figure skating champion, after American Tara Lipinski in 1998.
Reigning world champion Evgenia Medvedeva scored a world record 81.61 in the short programme on Wednesday, only for Zagitova to better her score moments later.
Zagitova knew she had to take a risk in the free dance, and 'back-loaded' - packing all her jumps into the second half of her performance in a bid to secure bonus points.
After landing all 11 of her second-half jumps during the four-minute free skate, she secured an impressive 156.65, taking her into the top spot - despite making a slight error on the landing of her triple lutz.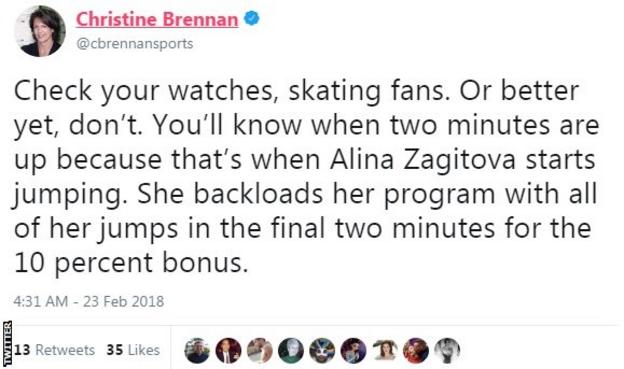 Next up, Canadian Kaetlyn Osmond's routine to Black Swan gave her a score of 152.15, opening the floor to Zagitova's friend and training partner Medvedeva.
At a slight disadvantage going into the free dance, the 18-year-old knew she had to perform her routine perfectly for the gold medal to be hers.
And, after a faultless performance, she burst into tears of joy, relieved to have nailed the landings which had caused havoc for other skaters in the final.
The gold appeared to be almost within touching distance for Medvedeva, but then came crunch time...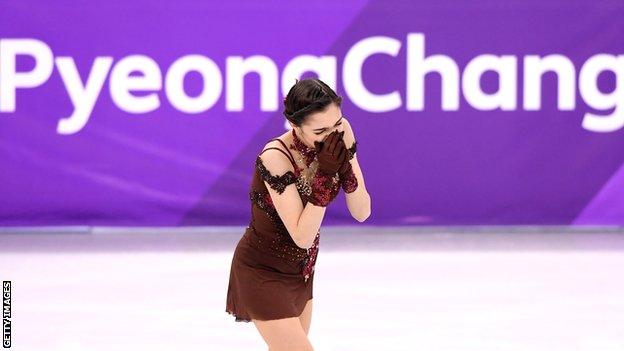 One thing's for sure; we wouldn't want to be the officials judging these two performances.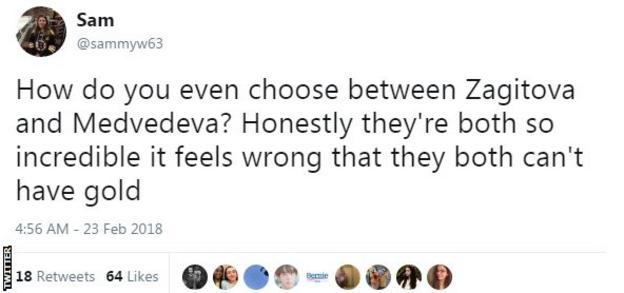 Medvedeva looked to have done enough to overhaul Zagitova, but the judges scored their free-dance routines equally.
Boos filled the stadium as the leaderboard revealed Zagitova had in fact finished 1.31 points ahead of Medvedeva, causing confusion, anger and outrage on social media.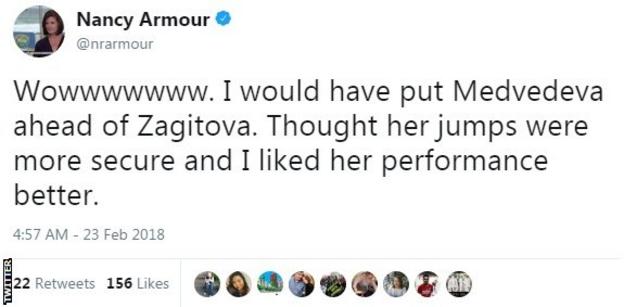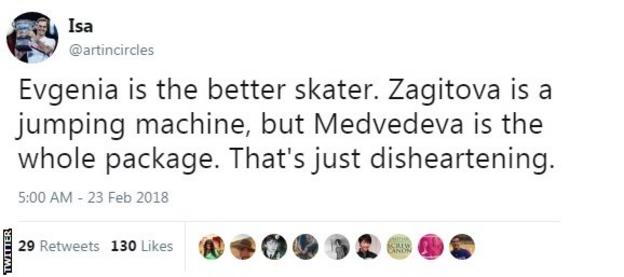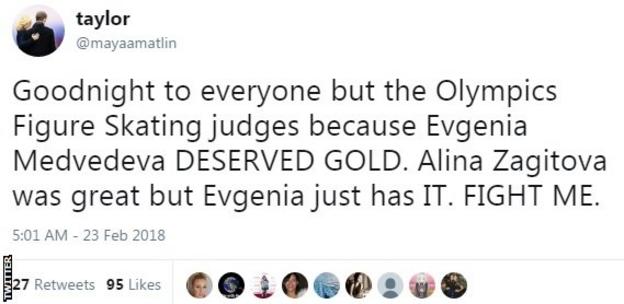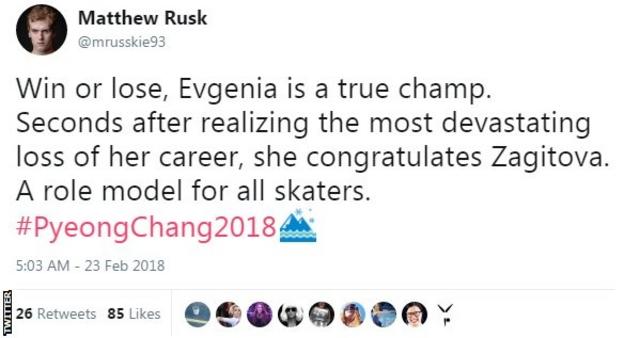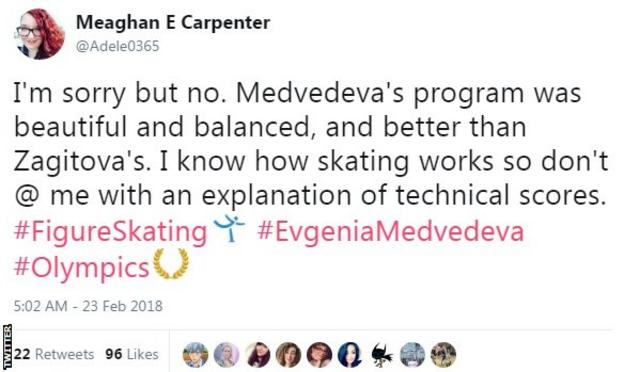 But overall, it was clear it was simply a close call, with the pair even hugging it out following the results.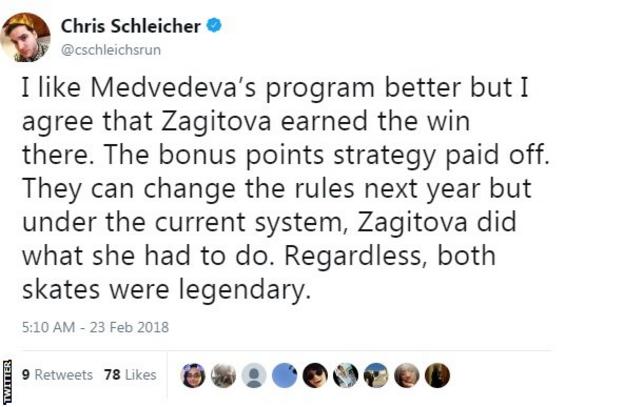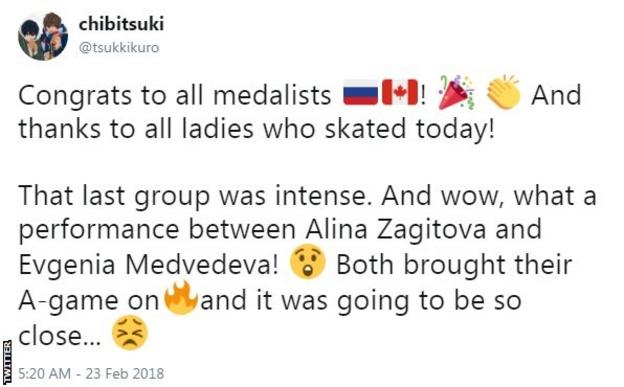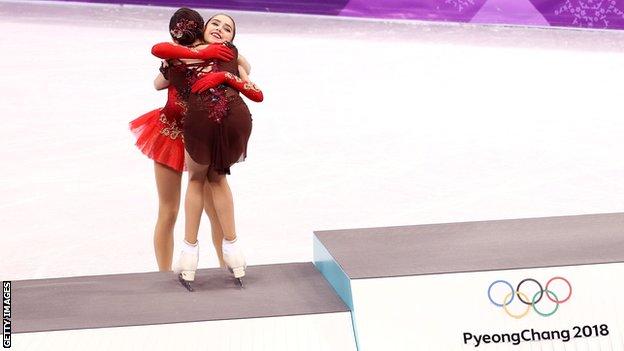 Talent show auditions and dodgy showers?
Just a matter of days ago, Mirai Nagasu became the first American woman to land the notoriously tricky triple Axel jump at an Olympics.
Fast forward to Friday, and a failed attempt to take off on her famed signature move landed her in 10th place in the women's singles final, leaving her with a sour taste.
In a post-skate interview with USA Today, the 24-year-old said she thought of her final routine at Pyeongchang as an audition for American television show Dancing with the Stars.
"I would like to be on Dancing with the Stars because I am a star," Nagasu said. "I made history here by landing the first triple Axel for a US lady at the Olympics so I think that is a big deal. I hope I get more opportunities to let my personality just shine.
"I smiled in the middle of my programme. It is really rare for me but I enjoyed myself and I thought of this as my audition [for DWTS]."
Nagasu also revealed the truth about living in the athletes' village, saying: "I have watched my room-mates go out and compete and I have still had to go to bed at 8pm, which is hard for me.
"I am not used to that and to wake up at 4am is not easy. It is hard - people don't see what goes on in the background.
"We've had so many other commitments. I also haven't taken a warm shower because there are a lot of people on Team USA - somehow I keep trying to take a shower and all the hot water is gone."