Winter Olympics: Russian doping whistleblower Grigory Rodchenkov's IOC warning

Exclusive by Dan Roan
BBC sports editor
Last updated on .From the section Winter Olympics
The BBC travelled to a secret location in the US to meet Grigory Rodchenkov, the former head of Moscow's anti-doping laboratory, who is living under witness protection.
In his first international broadcast interview since defecting, the 59-year-old whistleblower insisted on wearing a face mask to conceal his new identity because of a perceived security threat from Russian agents.
The International Olympic Committee (IOC) faces "the most important moment in its history" when it decides whether to allow Russian athletes to parade with their national flag at Sunday's closing ceremony of the Winter Olympics in Pyeongchang, says Russian doping whistleblower Grigory Rodchenkov.
Letting them do so would be the IOC's "worst decision", he said.
Rodchenkov also said that "the Olympics could die" if radical reforms to support the fight for clean sport are not made.
The former head of Moscow's anti-doping laboratory said the IOC was "falsifying" the anti-doping movement, which he said is also being "sabotaged by international sporting federations".
Rodchenkov fled Russia in late 2015 with detailed evidence of the far-reaching state-sponsored doping regime he masterminded.
His claims led to the country being banned from February's Games in South Korea, where 168 Russian athletes were allowed to compete as neutrals.
In a wide-ranging interview, Rodchenkov told BBC Sport:
he would be dead if he had stayed in Russia

he was "very sorry" to British athletes for helping Russian athletes to cheat at the London 2012 Games

British sport had a doping problem too, and that he knew of "extremely suspicious" cases involving some of the country's competitors


'Countries not interested in catching cheats'
The IOC banned the Russian team from Pyeongchang in the wake of Rodchenkov's damning testimony to the World Anti-Doping Agency's (Wada) McLaren report, and forced its athletes to compete under the Olympic flag.
However, it may try to draw a line under the scandal by lifting the suspension for the closing ceremony and allowing the Russian flag to be flown. The IOC has delayed a decision on this until Sunday.
"The IOC should show how they are consistent with the fight against doping," said Rodchenkov.
"Russian officials reject any charges, they say I am a liar, they humiliated all whistleblowers, they gave false information in court, and if the flag will be allowed to appear it will be the worst decision.
"People understand what the IOC is doing; falsifying the fight against doping. It will scratch out all previous achievements, and its absolute disregard to all commissions, all conclusions, and to McLaren."
Rodchenkov also warned that a failure to implement thorough anti-doping reforms could have a devastating impact.
"The IOC and Olympics are [in a] huge crisis. We need reforms. It requires some necessary things to be done, especially more money.
"There are 'incorrigibles' who, under any situation, will continue their smuggling, selling and using doping. We should be criminalising such cases.
"Sporting international federations are the biggest problems in doping control. I am sure they are hiding or not discovering dozens of positives.
"They don't like to go into depth, and that is why doping control should be taken away from federations [and given] to Wada, and also be absolutely independent.
"In general many countries and many national anti-doping organisations are not interested at all to catch leading athletes in their countries."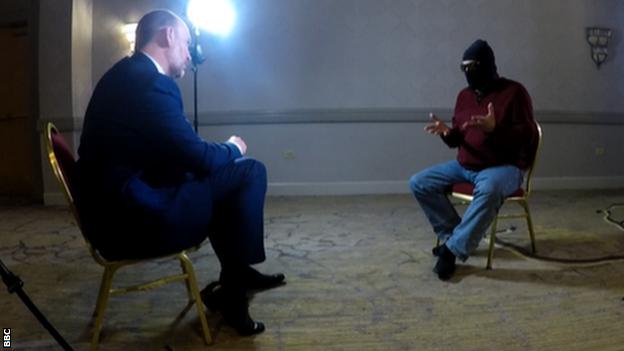 'There are extremely suspicious cases in Britain'
Rodchenkov also apologised to British athletes for his role in tarnishing the integrity of the London 2012 Olympics by helping Russian athletes to cheat.
"My message is I'm very sorry that your career, your biography, was broken because of this systematic and widespread cheating.
"I'm especially sorry that I contributed and wrongly used all my knowledge and experience against all the clean athletes in the whole world, and that's why I'm sitting here and telling you truth about what happened that time."
However, Rodchenkov also warned that Britain could not be complacent in the fight against doping.
Asked if he believed British sport had a problem with cheating, he said: "Honestly? Yes. I don't tell now during [the Winter Games] in front of TV, but I have several extremely suspicious cases in British sport."
'I followed orders from the top'
Rodchenkov's story was the subject of the Oscar-nominated documentary 'Icarus'.
Before the film's release, he exposed the elaborate nature of doping procedures at the 2014 Winter Games in Sochi, where positive urine samples were swapped for clean ones through a hole in his lab wall.
Rodchenkov reiterated his claim that he was just part of a system which went to the very top of the Russian state, including President Vladimir Putin and Deputy Prime Minister Vitaly Mutko.
The Russian government insists that he was effectively acting alone, and that there was no government-sponsored doping plot.
"It's impossible to do on my own," he said. "I absolutely followed orders. It was teamwork. FSB [Russian State Security Services] was involved when we had to control co-ordination.
"[Mutko] knew absolutely everything, and he reported to the president. I know he reported to Putin - he told me that. Putin is denying. It's the usual situation."
Mutko, who was minister for sport at the time, is currently appealing against a lifetime ban from the IOC and has denied allegations of wrongdoing, while President Putin has frequently dismissed Rodchenkov's claims, recently labelling him an "imbecile" who "could not be trusted".
'They would put me in a tomb'
Rodchenkov is adamant that his remarkable journey as a whistleblower has led to a perilous threat to his safety.
When asked where he would be if he had not left Russia, he replied: "In a tomb, of course. I would be done.
"There is absolutely strong evidence that I am in jeopardy. I don't want to underestimate the danger.
"[If I was to return] they may find some other way around - put me in a psychiatric clinic, they have many plans. It will be torture. It's no way to go back to Russia, it's a big, big danger and threat to my life."
Rodchenkov is also facing a legal challenge after a defamation lawsuit was filed in New York State Court this week by Olga Zaytseva, Yana Romanova and Olga Vilukhina - three former Russian biathletes - over claims linking them to the Sochi doping scheme.
The suit is backed by Mikhail Prokhorov, the Russian owner of the NBA team the Brooklyn Nets, and head of the Russian Biathlon Federation during the Sochi Games.
"I'm ready for everything," said Rodchenkov. "In regards to all these charges I know many things which remain undisclosed and were they to continue this, they will deeply regret their decision to sue me.
"In this particular case I know everything; welcome to court!"
'He's not a cheater; he is unprofessional'
Another recent development has been the latest doping controversies in Pyeonchang involving Russian athletes.
On Thursday, curler Alexander Krushelnitsky was stripped of his bronze medal after a positive test for banned substance meldonium. Then, on Friday, it emerged a second Russian athlete - Nadezhda Sergeeva - tested positive for a banned substance.
Speaking after the first failure, Rodchenkov said he does not believe Krushelnitsky's violation is in the same grave category as the orchestrated misdemeanours of the past.
"I don't consider him as a cheater - it's a complete negligence. Maybe somewhere in his bag there are some pills. But be careful, this is absolutely different. We cannot blame like cheaters - it's unprofessionalism.
"I did everything to prevent cheaters competing in Pyeongchang, so I do believe that the new generation participating now, they are clean. At least not as bad as the previous generation."
Rodchenkov says he has more information that he has yet to disclose, and wants to be remembered as a force for good in sport's fight against cheating.
He says he is sorry that he "did such wrong things" but he is happy to be alive.
"I am satisfied that I told a truth which is absolutely unbelievable, and for such things I will be remembered forever," he said.
"I regret, I repent and I will continue my co-operation to make great steps to be remembered in a good sense.
"I have more information which requires some cross-references which we are looking for, but there are some prospects in a very serious direction."


This was not your average interview...
With other senior Russian anti-doping officials having died in mysterious circumstances in recent years, those tasked with protecting Dr Rodchenkov and keeping him alive take absolutely no chances.
Having arrived in the US, where he lives in hiding in a secret location, we were instructed to keep the purpose of our visit strictly confidential.
We were told when the interview would take place, which city to fly to, and a rough direction in which to to head, but no other details were provided.
We were then given a precise location which cannot be disclosed for security reasons, and were introduced to Rodchenkov, who wore a mask and sunglasses to hide his new identity.
Produced by Patrick Nathanson & Kieran Fox
Filmed by Phil Edwards
You can watch the full interview on BBC World News at the following times:
Saturday 24 February: 11:10 GMT, 22:10 GMT
Sunday 25th February: 08:10 GMT and 18:10 GMT