Winter Olympics stats: Norway's record haul, Germany's golden Games and more
Last updated on .From the section Winter Olympics136
Norway topped so many podiums they ran out of commemorative shoes, Germany enjoyed a gloriously golden fortnight, and the United States' women "saved" their country's 2018 Winter Olympics.
There were 102 gold medals up for grabs across 15 sports in Pyeongchang, with the likes of big air snowboarding, mixed-doubles curling, mass start speed skating and mixed-team alpine skiing added to the programme.
Ester Ledecka won two golds in two different sports, Marit Bjorgen became the most decorated Winter Olympian of all time, and five was the magic number for Great Britain's competitors.
Here BBC Sport looks at the stats behind the medals in Pyeongchang.
Norway enjoy record-breaking Olympics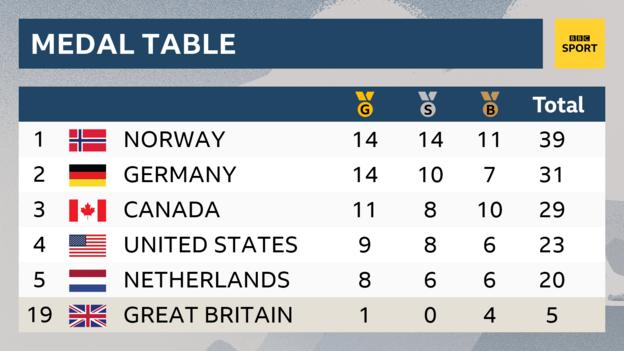 This was a remarkable Games for Norway - minnows in terms of population but powerhouses in the winter sports world - as they surpassed USA's record of most medals won at a single Winter Olympics.
The Americans racked up 37 at Vancouver in 2010, but the Norwegians finished on 39 in Pyeongchang, with Bjorgen winning her fifth medal of the Games in the final event, the women's cross-country skiing mass start.
Their final tally was 13 more than their previous best medal haul of 26 - set at both Lillehammer in 1994, and Sochi last time out. They did this with a team of 109 athletes - 133 fewer than USA sent to Pyeongchang, and 45 fewer than Germany.
Both Norway and Germany finished with 14 golds - matching the record set by Canada at Vancouver in 2010.
Norway have now finished top of the medal table at eight Winter Games, but this is the first time since 2002.
They and Austria are the only two countries to have won more medals at the Winter Olympics than in summer Games.
"These guys have an extreme need to come first. They are obsessed about winning," said the country's chef de mission Tore Ovrebo.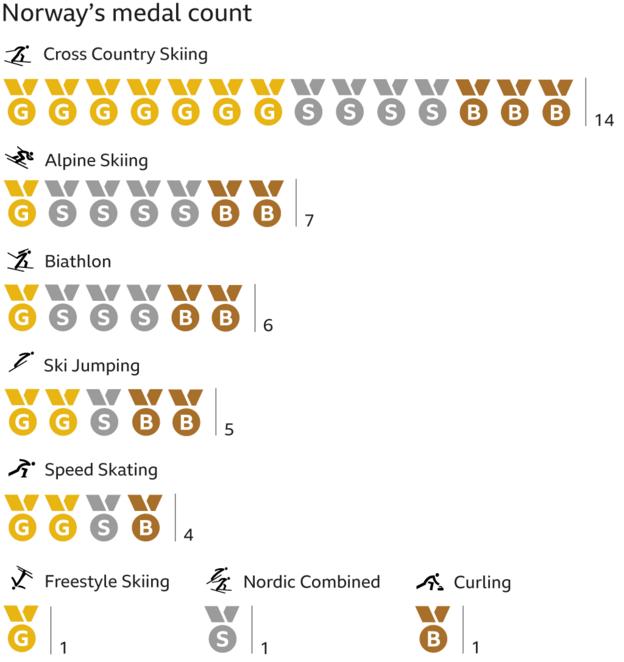 'No jerks' rule helps Norway thrive
Norway's annual sports budget of about £13.7m is less than half the amount UK Sport provided Britain's Winter Olympic competitors for Pyeongchang alone (£28.35m).
Ovrebo recently told Time that Norway's athletes - some of whom work as plumbers, carpenters and teachers - do not receive prize money or bonuses from their federations for winning medals. Instead they are given commemorative gold-coloured shoes. And cake.
The team's gold rush in Pyeongchang did create a slight problem for their officials, who ran out out of the commemorative shoes they give to athletes for medal ceremonies.
Their skiers spend 250 days a year together, play cards and enjoy 'taco nights', and super G bronze medallist Kjetil Jansrud says there is a "no jerks" rule on the team.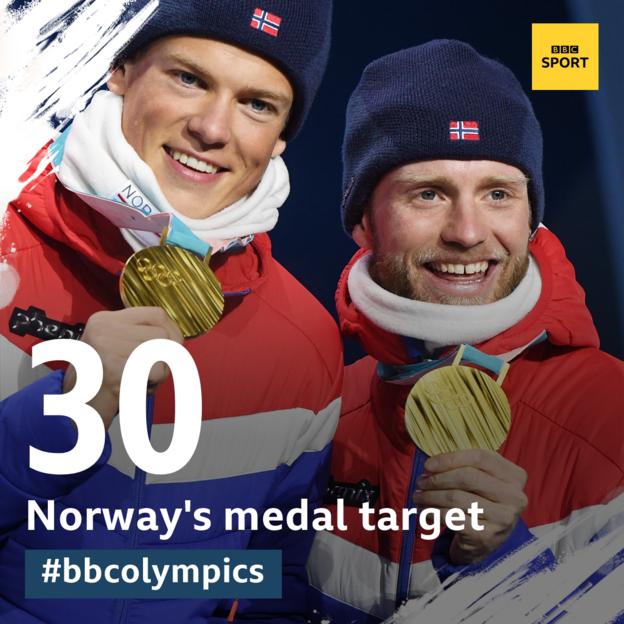 The secret to Norway's success? Snow...
They will be celebrating modestly back home in Oslo, in sub-zero temperatures, in the snow.... and that is apparently the, perhaps obvious, secret to Norway's success.
Asked what was behind their achievements, Ovrebo replied: "Snow."
He added: "We are proud but we're not bragging. That is very important because this is how we do it in Norway.
"The medal count is one thing, but that's secondary. The most important thing is we have had fun all the time and we are friends and we are still friends."
The OAR factor
Sports data analytics company Gracenote said before the Games that Germany were favourites to top the medal table, with a projected 40 to Norway's 37.
The absence of Russia inevitably played a role in other nations' heightened success.
Russia topped the table four years ago in Sochi, but were banned from South Korea after state-sponsored doping at the 2014 Games. Instead, 168 Russian athletes were invited by the International Olympic Committee to compete as neutrals.
Gracenote predicted Norway would be the country most likely to profit from Russia's absence, suggesting the Olympic athletes from Russia (OAR) would win 12 fewer medals than had they entered a full representative team.
OAR eventually finished with 17, an increase on their projected eight.
Norway were forecast to take home 17 in cross-country skiing alone. They ended with 14 - one more than the previous Olympic record set by the Soviet Union in 1988.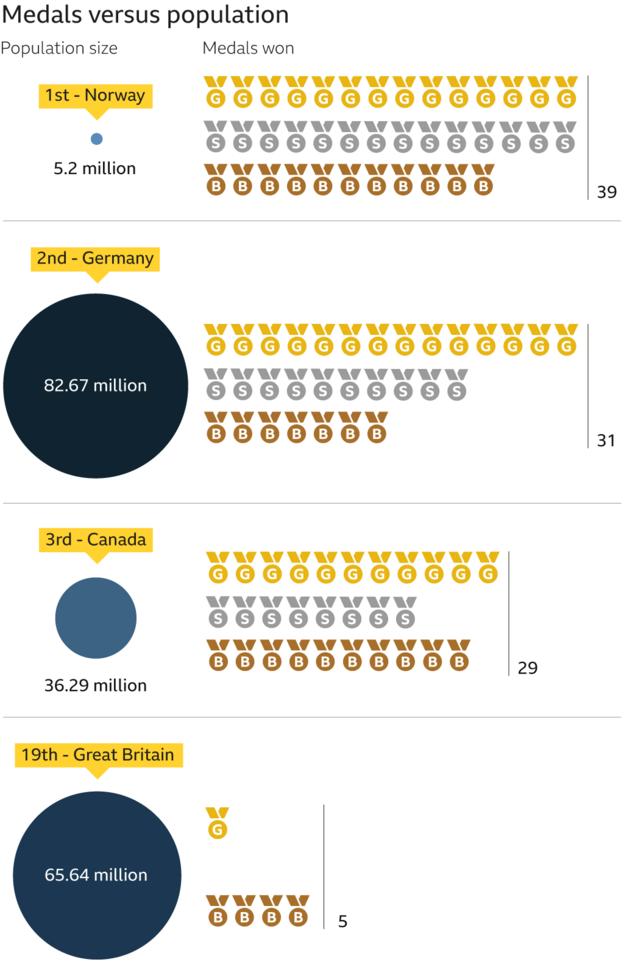 Bjorgen the best of all time
Norway have long relied on the skis of Bjorgen to deliver medals. She became the most decorated Winter Olympian of all time with five medals at these Games taking her overall tally to 15.
The 37-year-old cross-country skier surpassed compatriots Ole Einar Bjorndalen and Bjorn Daehlie as she took bronze in the 10km individual and team sprint, silver in the pursuit, gold in the 4x5km team relay and a final gold in the mass start.
She departs the Olympics as the second most successful woman at either the Summer or Winter Games, trailing only Soviet gymnast Larisa Latynina (18 medals).
Johannes Klaebo was also a notable contributor to the Norwegian cause on his Olympic debut. The 21-year-old won three cross-country skiing gold medals while, at the other end of the age spectrum, 35-year-old Aksel Lund Svindal took the downhill title.
Germany's golden Games
Germany's Games proved to be golden, both in terms of medals and recovery drinks.
The German team briefly moved top of the medal table when they won the four-man bobsleigh - their 14th gold - only for Norway to equal that in the final event.
Bobsleigh pilot Francesco Friedrich followed his victory in the two-man with the four-man title, making him only the second man to win in both disciplines in the past 30 years.
And, according to the country's Olympic ski team doctor, many of the team were fuelled by non-alcoholic beer during the Games, with brewery Krombacher shipping 3,500 litres to the athletes' village.
Ledecka 'queen of the Games'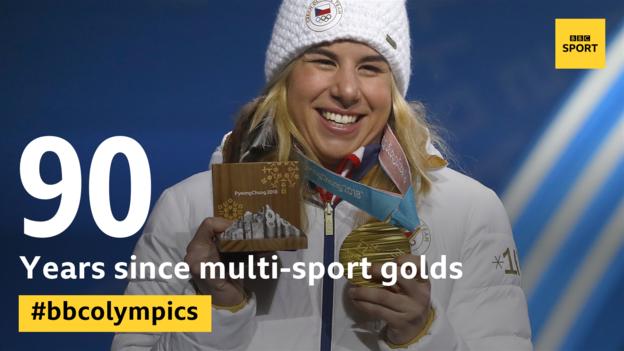 Not happy with winning a gold medal in one sport? Why not try two.
Ledecka made claiming multi-sport titles at one Winter Games look so easy, but the 22-year-old Czech is the the first woman to achieve such a feat, and the first athlete to do so since 1928.
Only Norwegians Thorleif Haug - in 1924 - and Johan Groettumsbraten four years later have managed it previously, both completing a cross-country and Nordic combined double.
Ledecka - described as the 'queen of the Games' - followed her shock victory in the skiing super G, which she won on borrowed skis, by claiming gold in her preferred snowboarding parallel giant slalom.
Record haul for Team GB
British medal targets may be modest compared to their Norwegian, German, Canadian and American counterparts, but this was still a record-breaking Games for Team GB.
Topping their previous best of four at Sochi 2014 and Chamonix 1924, the British team met the target of five set by UK Sport.
Snowboarder Billy Morgan proved the unlikely hero as he earned bronze in the big air to realise British ambitions.
It came after Lizzy Yarnold successfully defended her skeleton title to win GB's only gold, Dom Parsons and Laura Deas won bronze in the same sport, and Izzy Atkin also took bronze in the ski slopestyle.
USA women 'save Olympics'
"The disappointments and close calls for the Americans have befallen the famous and the barely known," said USA Today.
"USA Olympics was being humiliated - then the women stepped up," said the New York Post.
Team USA fell well short of their pre-Games target of 37 medals - winning 23 - and their haul would have been significantly lower were it not for the contribution of their female athletes.
At one point in week two, the USA's women had won eight of the team's previous 10 medals, including a surprise victory over fierce rivals Canada in the ice hockey final.
USA medal breakdown

Female athletes

12

(5G, 3S, 4B)

Male athletes

9

(4G, 5S, 0B)

Mixed events

2

(0G, 0S, 2B)
The women's success seemed to spark some momentum among the rest of the squad, with the men's curlers - backed by the A Team's Mr T - beating favourites Sweden in the gold-medal match, only to realise they had been given the women's winners medals...

But, after a disappointing performance overall, US chef de mission Alan Ashley said they would look at other countries and ask: "What are they doing?"
He added: "One of the things I'm curious about is that Norway had a runaway success here and they really did a great job preparing their athletes and I really admire them for that.
"I want to find out some things about what they're up to."
Home sweet home...
South Korea entered their biggest team at a Winter Olympics, with 122 athletes competing for the hosts. They recorded their best medal tally - 17 - at a Winter Games.
That bettered their performance in Vancouver eight years ago by three, and left the team seventh in the medal table.
Previous host nations have enjoyed greater success of late, with Russia topping the medal table at Sochi four years ago and Canada's 14 golds at Vancouver in 2010 placing them above USA (37) and Germany (30), despite taking fewer medals overall (26).