Winter Olympics: Second Russian athlete tests positive for doping
Last updated on .From the section Winter Olympics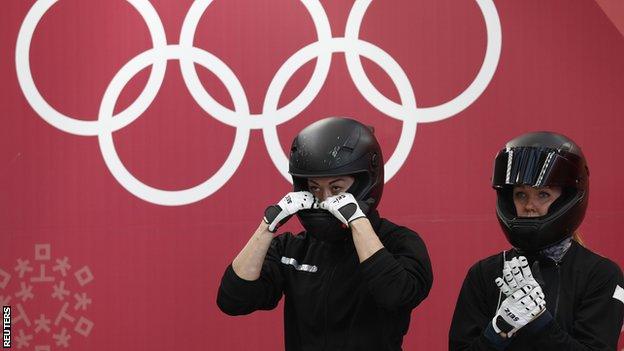 A second Russian athlete competing at the Winter Olympics has tested positive for a banned substance.
Nadezhda Sergeeva, 30, is one of 168 Russians allowed to compete as neutrals at the Games despite the country being banned for previous doping offences.
She finished 12th in the two-woman bobsleigh event in Pyeongchang.
On Thursday, Russian curler Alexander Krushelnitsky was stripped of his bronze medal after being found guilty of doping.
The Russian Bobsleigh Federation said Sergeeva had tested positive for "a heart drug" that "was not prescribed" by its medical team.
It added that a test on 18 February came back positive but a previous one on 13 February had showed a clean result.
Earlier on Friday, the neutral Olympic athletes from Russia (OAR) team won their first gold medal of the Games in South Korea.
Fifteen-year-old Alina Zagitova came first in the women's single figure skating, with compatriot Evgenia Medvedeva taking silver.
The International Olympic Committee banned Russia over "systemic" doping at Sochi 2014, which the country hosted. However, athletes who could prove they were clean were allowed to compete.
The OAR team are the third biggest at the Games, behind Canada and the United States.