Russia's Olympic membership restored by International Olympic Committee
Last updated on .From the section Winter Olympics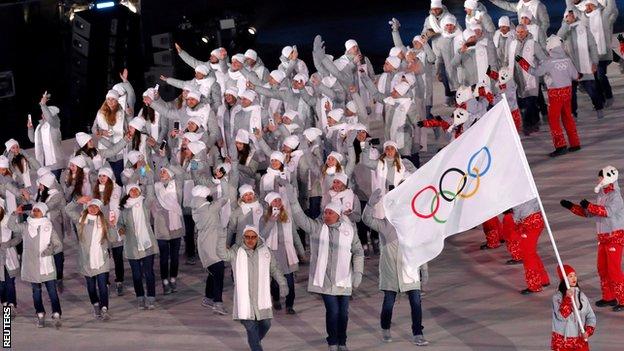 Russia's Olympic membership has been restored by the International Olympic Committee (IOC) following its suspension from Pyeongchang 2018.
Despite the ban, 168 Russians competed as neutrals in South Korea, and two of them failed drugs tests.
The IOC planned to reinstate Russia after the Games - so long as there were no more failed tests - and it now says all remaining samples were negative.
"The suspension of the Russian Olympic Committee is automatically lifted with immediate effect," it added in a statement.
The 168 Russians who competed in Pyeongchang as Olympic Athletes from Russia (OAR) had all been required to prove they were clean before the Games.
The OAR team was the third largest and won 17 medals, including two golds.
Why was Russia banned in the first place?
The IOC in December banned Russia from competing in Pyeongchang, having concluded that it ran a systemic, state-sponsored doping programme during the Winter Olympics it hosted in Sochi in 2014.
Allegations of the country's doping programme had first surfaced in 2015, with whistleblowing doctor Grigory Rodchenkov, director of Russia's anti-doping laboratory during the Sochi Games, a key figure.
He alleged Russia ran a systematic programme of doping. He claimed he had created substances to enhance athletes' performances, and that the country's secret service had been helped switch urine samples to avoid detection.
The World Anti-Doping Agency (Wada) enlisted the services of Canadian law professor and sports lawyer Dr Richard McLaren to look into the allegations.
The McLaren report concluded 1,000 athletes across 30 sports benefited from the doping programme between 2012 and 2015.
Wada obtained what it said was a Russian laboratory database which it felt corroborated McLaren's conclusions, while retesting of Russian athletes' samples resulted in a host of retrospective bans and stripping of medals.
Russia is also banned from the 2018 Winter Paralympics in March but, again, some athletes will compete as neutrals.