Slopestyle given Sochi 2014 Winter Olympics go-ahead
By Anna Thompson
BBC Sport
Last updated on .From the section Winter Sports
Great Britain could end its long wait for a Winter Olympic medal on snow after slopestyle was included in the 2014 Winter Olympics in Sochi, Russia.
The International Olympic Committee confirmed the event and president Jacques Rogge said: "Such events provide great entertainment for the spectators and add further youthful appeal."
Slopestyle is where skiers and snowboarders do tricks while heading down a course that features rails, big jumps and bumps.
Britain has previously only won Winter Games medals in ice sports, including Amy Williams' gold in skeleton in Vancouver 2010, but slopestyle's inclusion could change that as Jenny Jones is a three-time X Games gold medallist and James Woods won bronze at this year's Euro X Games.
Snowboarder Jones told the BBC Sport website: "It's really exciting. I can't believe slopestyle has finally made it. To have a chance to represent my country at a Winter Olympics would be awesome."
Simon Ashton, head of freestyle at British Ski and Snowboard, was equally delighted.
He said: "This is incredible news for British snowsports and exciting for our athletes. We have genuine medal potential."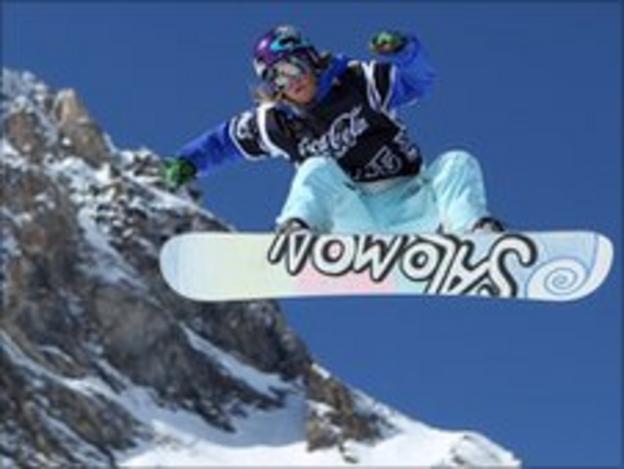 Snowboarder Jones will be 33 at the time of the Sochi Games, but if she stays injury-free she can still mix it with the top riders.
The Bristolian became the first British woman to win a gold medal at the prestigious X Games in Colorado in 2009, repeated the feat in 2010 and has also triumphed in the Euro X Games.
"Getting to the Olympics will certainly be a new goal for me. As a snowboarder I never thought my discipline would make the Olympics so I have never really thought about it although I was a gymnast when I was younger and I did dream about competing at an Olympics. I can't believe it's real."
Skiers Woods, 19, and Katie Summerhayes, 15, have also been on the podium in world class events. Woods at this year's Euro X Games, and Summerhayes, whom her coach Pat Sharples describes as "one of the most naturally talented skiers I have ever seen" finished third at the Burton European Open.
And 17-year-old snowboarder Jamie Nicholls' stock is also on the rise. He is a former British slopestyle champion and this season came third in a top-class event in Livigno, Italy.
Ashton believes the number of indoor and dry slopes in Britain has honed the talents of young skiers and snowboarders.
"Sheffield, where Katie and James are based, is a powerhouse," said Ashton. "A permanent fun park was built there and this enables them to learn the technical aspects of jumps which means when they head to the Alps or the United States they transfer their skills easily."
Great Britain's previous 22 medals at Winter Olympics - nine golds, three silvers and 10 bronzes - have all been in ice sports including skeleton, curling, figure skating, bobsleigh and ice hockey.
Slalom skier Alain Baxter would have become the first British snowsports medallist at a Games after finishing third in Salt Lake City in 2002 but he was later disqualified after a trace of a banned substance was found in his post-race urine sample.
The slopestyle announcement comes at a time when British Ski and Snowboard is rebuilding after Snowsport GB went bust just before the 2010 Winter Olympics.
UK Sport then withdrew funding for alpine athletes because of average performances in Canada and the lack of medal potential going forward.
Currently freestyle skiers and boarders do not receive money from UK Sport either, but this could now change.
Ashton said: "We are hoping we will now qualify for UK Sport funding as we'll be able to put a training programme in place so we tick all the boxes. British Ski and Snowboard has been great at backing us and TASS (Talented Athlete Scholarship Scheme) has provided some funding as well. Competing in Sochi will be a great fillip for British winter sports. I'm already excited about it."