Eve Muirhead fit for Oslo Cup after wasp sting scare
Last updated on .From the section Winter Sports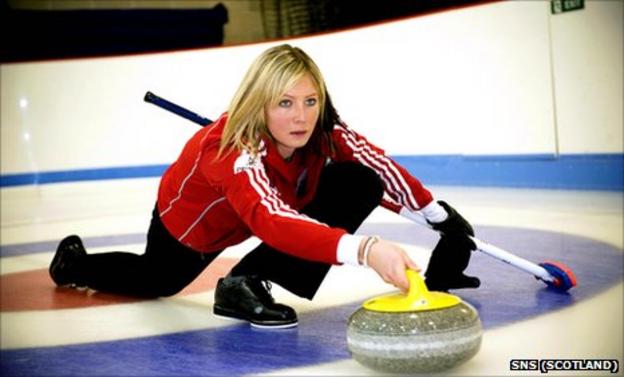 Scottish curler Eve Muirhead was left facing a race against time to make the first European Tour event of the season after being stung by a wasp.
Muirhead was golfing in her spare time, representing Perth and Kinross in the Scottish Women's County Championship finals in Dumfries, when she was stung.
"I didn't think much of it. On Saturday, my eye was a bit blood-shot, not too bad though," she said.
"Sunday, I woke up and I couldn't see out of my eye. I couldn't open it."
The 21-year-old - her eye by that stage "massive like a balloon" - was taken to hospital after the adverse reaction to the sting.
"I went off to accident and emergency to get lots of drugs to sort it out," Muirhead told BBC Scotland.
"I think I had a bit of an allergic reaction to the sting.
"I was on antibiotics and, by Monday, it wasn't too bad. The swelling had gone down slightly.
"I'm going to have to carry things with me in case I get stung again. The doctor says it was just a bad reaction."
Muirhead has now recovered and is looking forward to the new season but has received plenty of advice from friends and family on how to avoid a repeat of her unusual injury.
"A lot of people have told me to stick to the ice because you don't get wasps on the ice," she joked of her golfing appearance.
"I didn't think it was going to be that dangerous.
"It ended up a bit risky with the curling season just around the corner, but it was always going to die down, so I'm back on the ice now and perfectly normal."
The European Tour kicks off this weekend with the Oslo Cup in Norway and Muirhead is thrilled to be getting back on the ice after the summer break.
"It's the first Tour event of the season and it's a lot of the teams' first competition," she added. "It's great to get back on the ice.
"I've got a new team this year. It's different but I think things are going really well."
You can hear the full tale of Eve, the wasp and the golf course on Sport Nation tomorrow morning from 9am on BBC Radio Scotland.