Chemmy Alcott out of 2011-12 ski season
By Anna Thompson
BBC Sport
Last updated on .From the section Winter Sports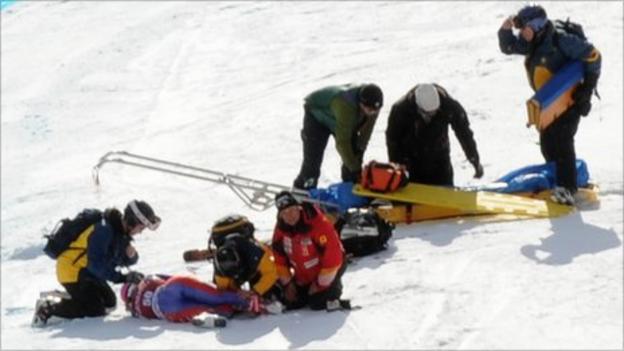 British skier Chemmy Alcott has ruled out a return to racing this season as she battles back mentally and physically from a high-speed crash.
Alcott suffered a compound fracture of her right leg last December during downhill training in Canada.
She is determined to race again, with the 2014 Winter Olympics in Sochi her main focus.
She said: "I can't come back 80%, 90% or even 95% better to a sport like ski racing. You have to be 100%."
Alcott added: "If I am to put myself in the best possible chance of coming back and ever bettering my best world ranking of eighth, then I have to bide my time."
The 28-year-old had to have nine screws and a large metal plate inserted into her shattered leg and she has been told she will experience pain when she is racing.
But she is using Hermann Maier, the Austrian powerhouse who successfully returned to racing after an horrendous motorbike accident, as her role model.
Alcott said she had not thought about retiring from the sport and has bounced back from serious injury before, including breaking her back when she was a child, and an ankle fracture in 2008.
She plans to be back on snow by the spring and told BBC Sport: "Despite all the battles against injury and lack of funding, I love this sport too much to retire on a crash. Who knows if I will ever be as fast or faster than I was, but I am determined to give it a good go.
"Having to get used to pain is not such a nice thought but I am reading Maier's autobiography where he talks about the pain when he started skiing and if he could do it, one of the greatest racers of all time, I promise you that I will try."
She has competed in three Winter Olympics, with best finishes of 11th in the downhill in Turin in 2006 and the super combined in Whistler four years later. She also has five top-10 World Cup results to her name.
As well as the physical injury, Alcott has yet to get to grips psychologically with what happened in Canada nearly 11 months ago.
"I would say right now my head is 90% ready and my body lacking a bit behind at 70%. I haven't wanted to even think about the mental implications of my crash until I knew my body was healed. I didn't want to add worry and fear to the equation."
Alcott, from Twickenham in southwest London, will have to raise funding herself after UK Sport withdrew financial support to the alpine team after average results in the 2010 Winter Olympics.
The 2010-11 World Cup season begins with the traditional curtain-raiser giant slalom in Soelden, Austria, on 22 and 23 October.