British bobsleigher fractures spine in crash
By Anna Thompson
BBC Sport
Last updated on .From the section Winter Sports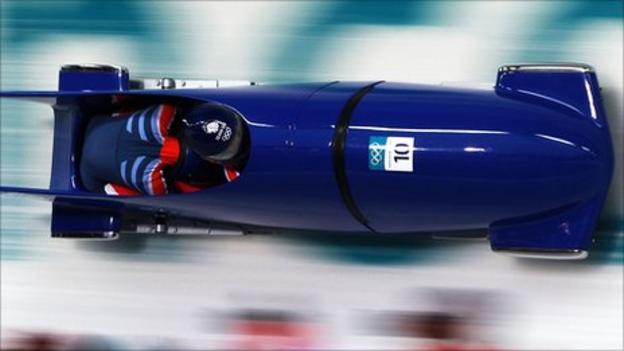 A British bobsleigher is in hospital after fracturing her back during a major training crash in Germany.
Brakewoman Serita Shone had spinal surgery and is in a "stable" condition after the accident in Winterberg.
Bobsleigh driver Fiona Harrison suffered a head injury and is under observation in hospital.
Performance director Gary Anderson told BBC Sport: "I can confirm they were injured during a training run for the British Championships."
He added: "Serita has had spinal surgery and is still under sedation. My focus is now on the two athletes and their families."
There are reports the bobsleigh came off the track at high speed near the bottom of the run.
Shone, 22, from Dorset, had only joined the bobsleigh squad last month after switching from athletics, where she was a heptathlete.
Her spokesman Ben Clatworthy told BBC Sport: "Serita is a very determined athlete who wants to succeed in everything she does and had recently been selected for the British bobsleigh team.
"Bobsleigh is described as Formula 1 on ice and like Formula 1, it can never be 100% safe. Our thoughts are with her and her family and friends at this time."
Harrison, also a former heptathlete and pole vaulter from Barnsley, has been bobsleighing for two years.
The 29-year-old has competed at Europa Cup and World Cup level and was part of the women's squad at the 2010 Winter Olympics.
She is said to be in good spirits and "desperate to get back on a sled," according to her former race partner and ex-world champion Nicola Minichiello, who is now the head of development for the International Bobsleigh Federation.
Minichiello added: "I have spoken to Fiona and she has already been trying to persuade the doctors to let her race again in the GB Championships this weekend.
"Crashing is part and parcel of a sport in which you constantly have to push the edge, but fatalities and serious injuries are a million to one. It just seems Fiona's and Serita's accident was an unfortunate twist of fate."
The British Bobsleigh Championships are being held at the venue 100 miles east of Dusseldorf and are running from 24 to 29 October and include men's, women's and youth races.
Britain's main women's duo of Paula Walker and Rebekah Wilson are not in attendance. They are instead in Canada preparing for the first World Cup race of the season in Igls, Austria.
The Winterberg track is one of 14 sanctioned by the governing body, FIBT, to host top class competition and is a regular on the World Cup calendar. It hosted the 1995 men's World Championships and the women's in 2000.
British bobsleigh has had recent success with Nicola Minichiello and Gillian Cooke winning the World Championships title in 2009, and Walker claiming the world junior title last season.
Walker is a medal prospect for the 2014 Winter Olympics in Sochi and UK Sport has invested just under £2.5m for her programme leading to the Games.
She finished 11th at the Vancouver Games, with Minichiello and Gillian Cooke crashing out, as did the men's team in the two and four-man bob, led by Jackson.