Bobsleigher Serita Shone "improving" after spinal surgery
By Anna Thompson
BBC Sport
Last updated on .From the section Winter Sports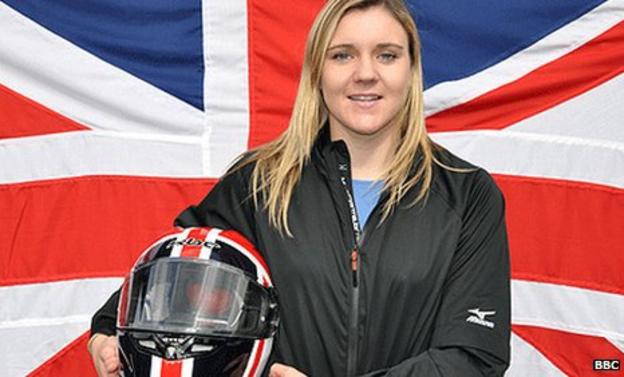 British bobsleigher Serita Shone is improving in hospital after undergoing spinal surgery following a major training crash.
She has regained feeling in her legs but will undergo a second operation in a few days.
Shone and bobsleigh driver Fiona Harrison crashed at 70mph during training for the British Championships in Winterberg, Germany.
Performance director Gary Anderson said Shone was still in intensive care.
He told BBC Sport: "She has had one operation to stabilise the fracture and will have another in three to four days' time repair the damage.
"She is doing OK and is in a positive frame of mind but she's not allowed to move so she's bored and finding it difficult to sleep."
Shone, a former heptathlete from Weymouth, had only been selected for the British Bobsleigh squad last month after impressing in trials over the summer.
Driver Harrison from Barnsley is also an ex-athlete who started bobsleigh two years ago. She suffered a head injury in the accident but could be released from hospital on Friday.
Anderson said neither athlete could remember the moments leading up to the crash on Wednesday evening, which happened on turn 13, near the end of the run.
"Ninety nine times out of 100 you would walk away from something like this with bumps and bruises," Anderson said.
"It's very rare something as serious as this happens but it appears Serita bore the brunt when the sled crashed and flipped over."
He said it was too early to know whether Shone would be able to return to the sport.
He added: "At this stage we don't know what the future holds for Serita. It will be a very long road to recovery but we will be supporting her all the way."
Shone's parents were heading to Germany to be with their daughter and family spokesman Ben Clatworthy said they were hopeful about her prospects.
He told BBC Sport: "Serita is such a determined person. She has dreamed of being a professional athlete and her parents believe if anyone can battle back from this, it will be Serita."
The British Championships will continue as planned at the German venue this weekend, which is 100 miles east of Dusseldorf. The remaining athletes were given the option to withdraw but all have continued with their training.