Amy Williams set for skeleton return
By Anna Thompson
BBC Sport
Last updated on .From the section Winter Sports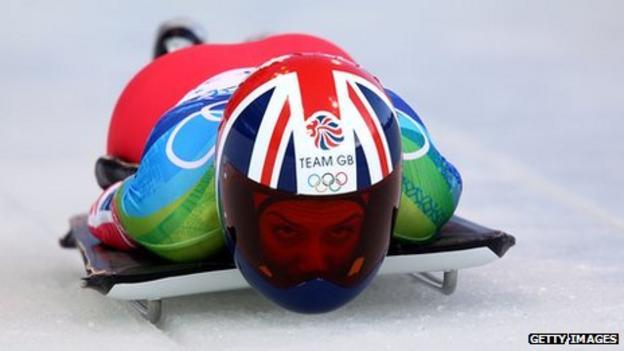 After battling the frozen wastes of the Arctic and surviving in the African bush, Amy Williams is back to her day job sliding head-first down an icy track, reaching speeds of up to 80mph.
Williams, 29, is about to embark on her first full skeleton season since she won gold at the 2010 Vancouver Olympics, becoming the first British individual gold medallist at a Winter Games since Robin Cousins in 1980.
After her fantastic achievement, Williams was in high demand and admitted revelling in her new-found fame, which led to her being invited to top sporting occasions, film premieres and appearing on television shows including 71 Degrees North and Alone in the Wild.
She missed half of last season but she has put her alternative career on the backburner as she returns to the track at Igls in Austria for the first World Cup of the season on Friday.
Williams told BBC Sport: "I've been sliding for a month and it's good to be back on the ice with my sled. I'm excited about being here and seeing my friends again."
But Williams, based at the University of Bath, is honest enough to admit she does not have the same yearning she once had for the sport in which she has achieved the ultimate prize.
"I do feel different and don't have the same complete hunger for it but I'm here to focus on skeleton again and give 110% and see if I can still do it," she said.
After a few tweaks to her sled, nicknamed Arthur, training has been satisfactory and Williams has been in the top three during practice runs.
But the race will be tougher as she will start at the back of the field - her world ranking plummeted when she missed races last season and failed to qualify for the World Championships.
She will also renew her rivalry with Britain's Shelley Rudman, who won silver at the 2006 Winter Olympics in Turin after being selected for the British team at the expense of Williams.
There is no love lost between them. Williams will only say they are polite with each other, but the battle to be the top ice queen will certainly push the duo to better results.
Of Rudman's form, Williams commented: "She's sliding amazingly and has produced some fast times so I expect her to get good results this season.
"The whole women's team is strong. We have three in the Intercontinental Cup [the second tier] who are vying for an opportunity, so the competition is great."
The next Winter Olympics will be held in Sochi, Russia, in February 2014 and Williams added: "I would really love to go to another Olympics but can I stay focused for three more seasons?
"I know other athletes return to Olympics and win gold after gold so they must find that hunger from somewhere. I'll just have to see how it goes."
The World Cup season is eight races long, culminating in Calgary, Canada, with the World Championships being held in Lake Placid, New York between 13 and 26 February.