Scotland women win the European Curling Championship
Last updated on .From the section Winter Sports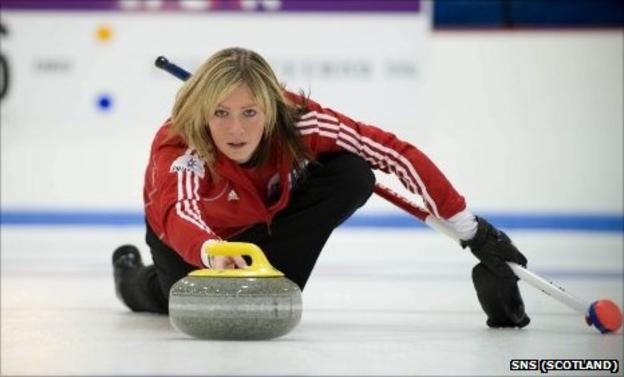 Scotland women gained revenge on Sweden for last year's final defeat by beating their opponents 8-2 to win the European Curling Championship in Moscow.
The Swedes had won all 10 of their matches in the tournament heading into the final but could not match the challenge by Eve Muirhead's rink.
And after last year's narrow loss, Muirhead was delighted to take gold.
"I wanted to go one better this year," the Scotland skip told Sport Nation on BBC Radio Scotland.
"We knew it was going to be a tough game. Sweden went into the match unbeaten whereas we had started quite slowly.
"But as the week has gone on we have got better and better."
Scotland started better, scoring singles in each of the first two ends for a 2-0 lead.
By the end of the fifth, Scotland had an unexpected 7-0 lead, with Sweden finally scoring in the sixth.
But Muirhead's charges added another score in the seventh and Sweden conceded defeat in the eighth.
"In the final we hardly missed anything. We fired on the pressure from the word go," Muirhead added.
"We seemed to be much more relaxed than them. The tension seemed to be on them from the start. The skip missed a couple of shots and we just fired the pressure on them and managed to get the victory.
"It's fantastic. It's been one of the medals I've wanted."
The victory for Muirhead's team of Anna Sloan, Vicki Adams, Claire Hamilton and Kay Adams secures Scotland's first European gold since 1975.
Russia beat Denmark 13-7 to take the bronze medal.