Torvill and Dean could return to help British ice skaters
By Ollie Williams
BBC Olympic sports reporter
Last updated on .From the section Winter Sports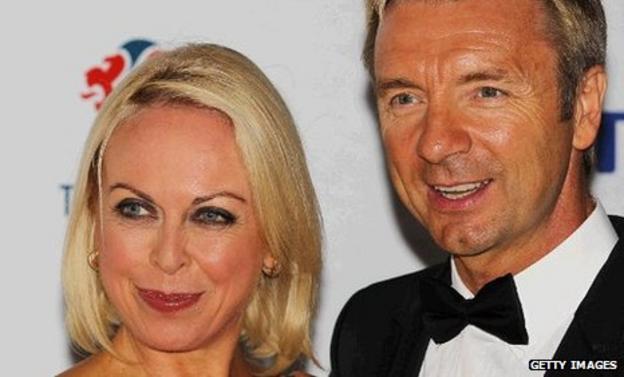 Legendary ice dance duo Jayne Torvill and Christopher Dean have expressed an interest in returning to the sport to help younger British talent flourish.
The duo won Olympic gold in 1984 and bronze in 1992 but no Briton has won an Olympic figure skating medal since.
"I guess some people would say we should lead that new generation to some extent, and we most probably would - if we were asked to," Dean told BBC Sport.
The National Ice Skating Assocation (Nisa) said it was "open" to talks.
"We'd always be willing to open discussions with them on a higher-profile role within skating," said Nisa chief executive Keith Horton.
Since retiring from competitive skating in the late 1990s, Dean - who now lives in the United States - and Torvill have gone on to star in British TV series Dancing On Ice, helping to popularise a sport that now languishes in the doldrums at elite level in Britain.
Brother-and-sister ice dance combination John and Sinead Kerr, the nation's most recent medal hopes, left the sport in the wake of an eighth-place finish at the Vancouver 2010 Winter Olympics.
Youngsters Nick Buckland and Penny Coomes, who finished 20th in the same competition, are now Britain's leading duo in an event Torvill and Dean once dominated. The sport no longer receives any aid from funding body UK Sport.
"Figure skating in the UK has peaks and troughs and we're in a trough at the moment," said Dean, 53.
"The Kerrs have just retired and we don't have, necessarily, the infrastructure that means there's always the next competitior coming through.
"It's sad to see the financial aid isn't there. It was there and it didn't produce, and the funding was taken away. Where is that disconnect? What happened?
"You've got to produce something, even if it always seems the wrong way round - the higher you get, the better the funding you get."
Roles available to Torvill and Dean with the British programme would range from coaching the likes of Buckland and Coomes - although Nisa believes they hold no coaching qualifications - through to acting as figureheads for a drive to increase participation in the sport.
But Horton, whose organisation has signed up the pair as ambassadors for next month's European Figure Skating Championships in Sheffield, expressed doubts that their expertise could be easily harnessed.
"We'd never turn the opportunity away, but Chris doesn't live here any more. They'll give time if they're available but they're so extremely busy," he said.
"We've been trying to set up a press conference with them for the European Championships, and it's been a nightmare trying to get half an hour with them. And we've been working on that for two months."
Dean, who lives in Colorado Springs, said: "We are around, and we are available - it just doesn't happen."
If Torvill and Dean were to coach Britain's elite youngsters, they would find themselves working alongside one of the Russians who deprived them of gold in their second and final Olympic appearance.
Evgeny Platov, who now coaches Buckland and Coomes, won ice dance gold at Lillehammer 1994 with partner Oksana Grishuk, ahead of a second Russian duo, leaving Torvill and Dean to pick up bronze in a result considered controversial by the British media at the time.
Buckland and Coomes train under 44-year-old Platov's instruction in the US city of Philadelphia, but are expected to return to Britain for January's European Championships.
"We're actually developing quite a strong ice dance structure," insisted Horton. "The only thing missing at the moment is UK Sport funding, which we need for athletes to train on a full-time basis.
"The funding situation is due for review at end of this season - next April - and is dependent on results from Nick and Penny. We're quietly confident we can pick up some funding to help us develop the programme further."