Unexploded bomb found at Winter Youth Olympics in Innsbruck
Last updated on .From the section Winter Sports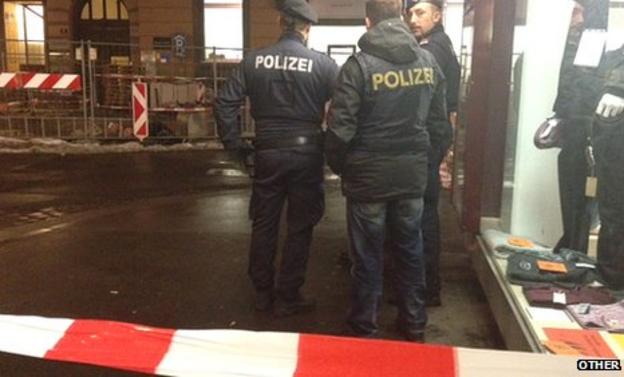 A medal ceremony at the Winter Youth Olympics in Innsbruck was postponed after the discovery of an unexploded World War Two explosive.
The 250kg (550lb) bomb was found during construction work and took four hours to be defused by 65 police staff.
Markus Auinger, Innsbruck police chief, said there had been a significant threat to public safety.
"We had to make police lines around the area and spent half an hour evacuating people from nearby buildings", he said.
Mark Adams, International Olympic Committee head of communications, added: "It's a shame, obviously. It's the first Winter Youth Olympic Games and it's really important to celebrate the medals but we thought it best to cancel.
"Safety, particularly of the athletes is at the core of everything we do. I must admit we weren't expecting to have a Second World War bomb."
Meanwhile, just a couple of miles away, the ice hockey skills event went ahead as scheduled.
Great Britain's Katherine Gale qualified in second position for the event, which was appearing at an Olympic level for the first time and scores six skills, such as movement with the puck, passing and shooting.
However, Team GB's wait for a medal in at the Winter Youth Games continues after Gale equalled the points score of the bronze medallist, but was penalised for winning fewer disciplines, finishing in fifth position.
"I'm a bit gutted as it was so close. It's disappointing not to win a medal but I gave it my all and I really enjoyed the competition," she said.
Earlier in the day Britain's sole snowboarder Lewis Courtier-Jones (Coventry) reached the final of the slopestyle event after posting a fine qualification run. However, in worsening weather conditions in the final, he was unable to land all his jumps and finished in 16th position with a score of 39.50.