Sochi's Winter Olympic preparations 'impressive'

By Ed Leigh
Ski Sunday Presenter
Last updated on .From the section Winter Sports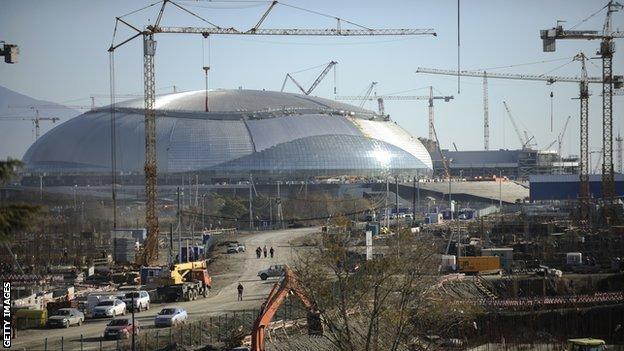 I must admit, I wasn't really looking forward to going to Sochi because on my previous two trips to Russia - I had been left a little, well, cold with the vast country.
Russia is a hard place with hard people. It is a country where smiling is seen as a character flaw. In fact if you smile you are considered either rich or stupid and seeing as rich people don't walk on the street it leaves only one option for people like me...
Understandably my expectations for my third trip were not high, but there was a fundamental difference to this trip.
I wasn't heading to Moscow, a city with a heart of stone, or Siberia - a territory so huge it makes up just shy of 80% of Russia's total land mass but has absolutely no idea that the communists have fallen.
Instead my destination was to the host city for the next Winter Olympics in Sochi, where the opening ceremony will take place on 7 February 2014. Nestled neatly between the Caucasus mountains and the Black Sea, it has earned a reputation as Russia's Riviera.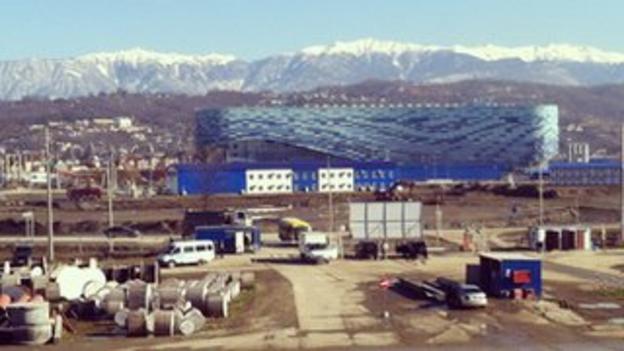 The town first came to prominence in the early 1900s when Joseph Stalin decided it would make the ideal holiday resort for his devoted workers. More recently its profile has been raised by Prime Minister Vladimir Putin's love of skiing. Having fallen in love with the Caucasus and built a sprawling holiday residence in the area, he realised the need to expand the ski fields and thus began a process to build a realistic Olympic bid.
I say realistic because Sochi has actually bid for the Games twice previously, in 1992 and 1998. But because both Sochi and the Caucasus mountains were so woefully under equipped in terms of infrastructure, it was laughed out of town.
That was then and a lot has changed in modern Russia. Putin's powerful reach has enlisted the help of Russia's richest Oligarchs and with a certain amount of arm twisting, he has eased the burden of hosting the Games by making sure private funds will share 50% of the bill.
Incidentally the cost of the Games is estimated to come in at about US$7 billion (£4.5bn) . A figure I originally baulked at, but after a little research found out is, if there is such a thing, it is about the going rate. Nagano in Japan came in at a staggering $12.5bn (£7.9bn) in 1998, while in 2006 Turin's existing infrastructure allowed it to keep the cost down to a mere $3.6bn (£2.27bn).
It wasn't something I expected to look at in such detail but value for money seems to be at the heart of the Sochi Olympics.
Knowing they would have to build every venue from scratch meant that every stadium would need dual purposes to fulfil the International Olympic Committe's legacy criteria and this is where Putin's vision for a new Russia starts to hit home.
In the next six years Sochi's coastal cluster, as the main event site is known, will host the Winter Olympics, Russia's first Formula 1 race and act as host city for the 2018 World Cup. On top of this, there are bold claims about environmental sustainability and economic growth for the area.
This positive spin is all tempered by claims of corruption, exploited labour and mafia executions in busy cafes in broad daylight. But just a little digging on any Olympic Games will turn up enough dirt to build a motocross track. I'm therefore going to conveniently sweep the negativity under the rug for a much more experienced journalist to dissect. Instead I'll focus on the sport.
From what I have seen so far, Sochi is a beautiful city. Granted, it's not Venice, but in Russian terms it's stunning. The Caucasus mountains are some of the most spectacular I have visited. They get huge snow falls thanks to their proximity to the Black Sea, and the terrain is fantastic.
And lest we forget, these mountains have forged their reputation on hosting a leg of the Freeride World Tour - a contest that challenges the world's best extreme skiers and snowboarders to conquer a ludicrously steep face.
The ice venues are on schedule and the downhill test event was an outstanding success. The only issue at present is the fact the sliding centre is behind schedule.
But you get the impression that with 19,000 workers on the job, seemingly 24/7, it won't be long before they catch up.
Having come here expecting disappointment, I have been monumentally impressed by both the planning and execution of the preparation for these Olympics. Bring on 2014!