Lizzy Yarnold hails adaptable British skeleton sliders
Last updated on .From the section Winter Sports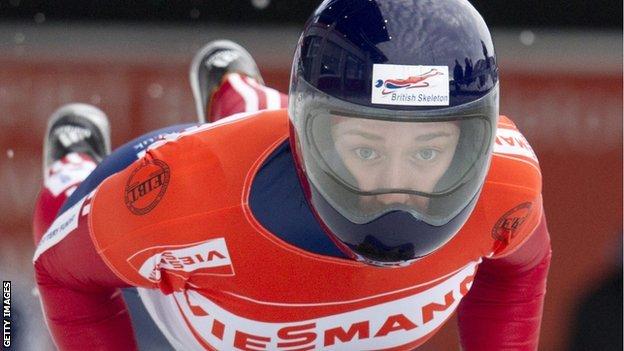 Sevenoaks slider Lizzy Yarnold says the fact Britain has no purpose built ice tracks is the main reason behind their success in the sport.
She told BBC Radio Kent: "We're very adaptable as skeleton athletes.
"We only have six runs on a track before we compete. You have to minimise your mistakes so we learn tracks and learn to do our best very quickly."
She added: "Other athletes may have their own track. They may be good at that one track and have done it many times. We can just move from one track to the next and adapt."
British Skeleton is based in Bath, where they have a 140m push-start facility, but no ice track.
Great Britain has strong pedigree in women's skeleton, having been the only nation to claim a medal in the event at every Winter Olympics (Alex Coomber, Bronze 2002;Shelley Rudman, Silver 2006; and Amy Williams, Gold 2010).
At the World Championships in Lake Placid last week, Yarnold, the reigning Junior World Champion, won a bronze medal ahead of Rudman (4th) and Williams (5th).
She said having her team-mates as her main competition shows how well the squad is doing.
"That's what I'd always hope for is that the Great British athletes are at the top and are on the podium.
"Our programme and our funding has worked very well and gone to the right people.
"We have excellent coaches and they're all very good ex-sliders. It seems to be working for us," she concluded.