Curling: Scotland beat USA to clinch play-off spot
Last updated on .From the section Winter Sports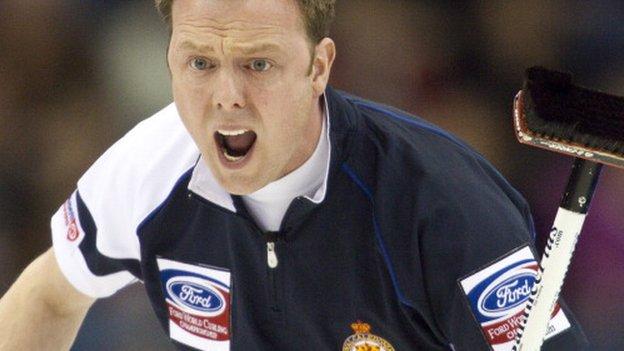 Scotland made sure of a play-off spot at the World Men's Curling Championship with an 8-6 win over USA.
Tom Brewster's rink triumphed in eight of their 11 round-robin matches to make sure of progression.
They will now take on table-toppers Canada in the first-versus-second play-off in Basel, Switzerland.
Canada recovered from their surprise 9-7 loss to New Zealand by beating China 8-7 in the final session.
New Zealand, skipped by Scots-born Peter de Boer, will take on Sweden in a tie breaker, with Norway awaiting the winner in the play-offs.
"It doesn't get any better than that," said a thrilled de Boer after the victory against Canada.
"It's pretty exciting, that's the first time New Zealand had beaten Canada and the first time New Zealand has had a winning record [in a World Championship]. So we're ticking off some boxes, and the next box we'd like to tick is a play-off.
"That should give us at least fifth place and hopefully our Olympic Association will take note and we might get a bit of support. But we'll be knocking on their door. It's terrific - it's just unbelievable."
Brewster cruised to a 5-0 lead against USA after three ends, with the skip saying: "It's a tough slog out there. We got five up but that ice is tough to hit on, you couldn't put the brush down."
On the prospect of facing Canada at least once more, he added: "We'll have a chat about how to beat Canada, but they're not unbeatable."
Session 17 results: Switzerland 10, France 6; China 7, Canada 8; Sweden 7, Germany 4; Czech Republic 6, USA 7.
Session 16 results: Denmark 6-4 Germany, Scotland 8-6 USA, Norway 9-6 France, New Zealand 9-7 Canada
Standings after final session: Canada 10-1 (qualified), Scotland 8-3 (qualified), Norway 8-3 (qualified), Sweden 7-4 (to play tie breaker), New Zealand 7-4 (to play tie breaker), China 6-5, Denmark 6-5, USA 4-7, Switzerland 3-8, France 3-8, Germany 2-9, Czech Republic 2-9.