GB bobsleigh athlete provisionally suspended after failing doping test
By Nick Hope
BBC Olympic sports reporter
Last updated on .From the section Winter Sports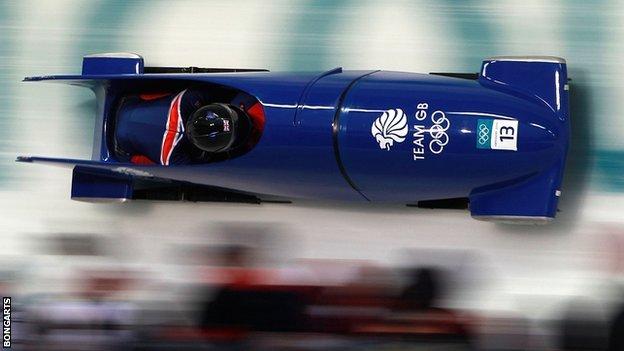 A British bobsleigh athlete has tested positive for a banned substance, the sport's governing body has confirmed.
UK Anti-Doping informed the athlete on 28 February and imposed a provisional suspension, pending a hearing.
"This gives a very clear message to athletes that you will be regularly tested to ensure a clean and fair sport," GB Bobsleigh performance director Gary Anderson told BBC Sport.
A guilty verdict ordinarily carries a two-year ban from competition.
The athlete will not be named until their case has been assessed by UK Anti-Doping and a verdict delivered.
"The athlete now has the opportunity to respond to the charge, including the right to a full hearing and testing of their B sample," Anderson said in a statement to the GB squad.
"British Bobsleigh will not be making any further comment on the issue until after the full process of investigation has been completed."
Although mitigating circumstances could reduce any potential penalty, a two-year ban would see the athlete miss the 2014 Winter Olympics in Sochi, Russia.
Under the current British Olympic Association (BOA) doping by-law, a guilty verdict would also make them ineligible for Team GB at all future Winter Games - although this stance is currently being challenged by the World Anti-Doping Association.
A decision is expected next week and should the BOA lose its appeal at the Court of Arbitration for Sport (Cas), as predicted, the athlete could come back into consideration for the 2018 Games in Pyeongchang, South Korea.
"I think everyone would agree with the stance, ethics and principle of the by-law," Anderson told the BBC.
"However, I think it should be applied internationally to ensure a level playing field for all athletes.
"It would be a shame if standards had to be lowered to achieve this."
Asked whether he would consider an athlete for selection who had previously been convicted of doping offences, Anderson said it would depend on Cas's decision over the BOA by-law.
"These are the rules and personal opinions cannot come into it," he said.
"If they have served their ban and are eligible, then they can be considered."
The British Bobsleigh team had a difficult 2010 Winter Olympics, where they failed to win a medal, and last year saw brakewoman Serita Shone fracture her spine, but they had produced some positive headlines in recent months.
Mica McNeil and Jazmin Sawyers won an impressive silver medal at the inaugural Winter Youth Olympics in January, while there were encouraging results for the senior men's and women's teams at February's World Championships at Lake Placid in the United States.