London 2012 inspires Great Britain's Sochi winter Olympians
By Anna Thompson
BBC Sport
Last updated on .From the section Winter Sports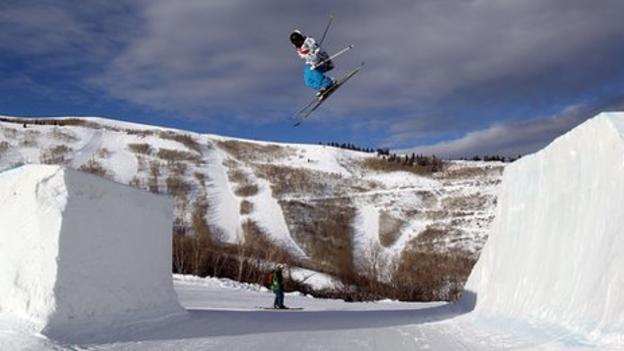 After Great Britain's stunning performance at London 2012, winning 29 golds as they clocked up 65 medals, Team GB's attention turns not to Rio in four years' time, but to Sochi in 2014.
Russia will host the Winter Olympics and Great Britain will send a team a 10th of the size of the 541 seen in their home Games, but will the summer success rub off on the winter sports athletes?
Not blessed with natural facilities, any Winter Olympics medal is hard to come by and Britain typically returns home with one or two. The biggest haul of four - a gold, a silver and two bronzes - was way back in 1924 and at the 2010 Games in Vancouver, Team GB won one solitary medal, albeit a gold in the skeleton from Amy Williams.
But, whisper it quietly, Great Britain could have its most successful Winter Games in Sochi, if all goes to plan.
Shelley Rudman, who won skeleton silver in Turin in 2006, is the current World Cup champion, the short-track speed skaters had their most successful season with seven World Cup medals and freestyle skiers and boarders finished on the podium too.
As an Olympic medallist Rudman was invited to the London 2012 opening ceremony, but how much has 2012 inspired her?
"It was spine-tingling." Rudman said of the opening ceremony. "It's really given me the bit between my teeth again as we head towards Sochi."
Rudman was a spectator at a number of events and said the support for the British athletes had been "incredible".
Short-track speed skating performance director Stuart Horsepool said most of his squad had been away in Germany during the Games but they had interrupted a training session to watch Jason Kenny win the men's sprint.
"They were high-fiving each other on the ice," he said. "They feel part of Team GB. They get an enormous lift from it."
Horsepool said London 2012's success was fabulous, but he countered: "We have to be cautious as expectations will go through the roof. This doesn't make my job any easier.
"We will never have the advantage of a home Games, but the whole Olympic experience has been great for some of my athletes who are on the Olympic Ambitions Programme."
There are 130 athletes and 56 coaches from both summer and winter sports on the Olympic Ambition Programme, which aims to give them an unique experience of a Games environment.
A total of 39 winter sport athletes and their coaches were invited to London 2012 and they visited the Olympic Village, Team GB House and attended practice sessions.
One of them was Pat Sharples, GB freestyle ski coach, who savoured with Olympic atmosphere with skiers Katie Summerhayes and James Woods.
Sharples said: "Katie had had a taste of it because she represented Great Britain at the Youth Olympics but Woodsy was completely blown away by it all.
"It was also great for me because I met with other coaches, like Tony Minichiello, Jess Ennis's coach, and that was really useful."
UK Sport funds both summer and winter sport, but whereas each summer Olympian had an average of £500,000 spent on them in the four-year cycle to London 2012, their winter counterparts average less than £300,000.
Not that Sharples is complaining. UK Sport took away funding for alpine skiing after a disappointing 2010 Games but last year handed £350,000 to the freestyle skiers and boarders after impressive results.
Britain has never won a Winter Olympics medal on snow, with all previous successes coming in ice sports. But will that run come to an end in Russia?
"That's our target," Sharples added. "We want to go to Sochi and do that and what has happened at London has certainly inspired us to fulfil our potential."