James Woods secures World Cup ahead of 2014 Winter Olympics
Last updated on .From the section Winter Sports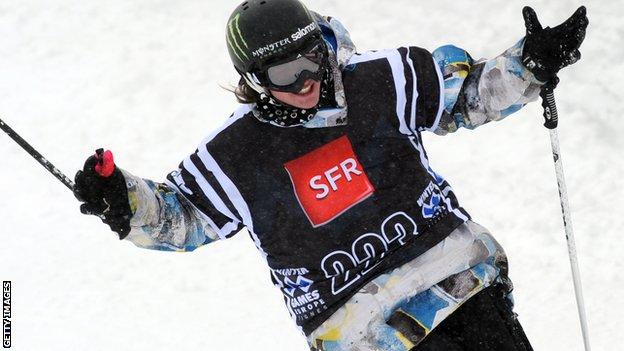 James Woods has secured Great Britain's first snowsport World Cup win in eight years, raising hopes he could win a medal at the 2014 Winter Olympics.
Woods started the new slopestyle season by defeating his rivals in Ushuaia, Argentina.
Slopestyle, in which skiers are judged on freestyle manoeuvres on a downhill course with jumps and rails, was added to the Olympic programme a year ago.
"I am very excited to get started like this," said Sheffield's Woods.
The 20-year-old produced a thrilling display to finish clear in first place with a score of 90.4 and collect valuable points towards qualification for the 2014 Winter Games in Sochi, Russia.
Woods said the impact of London 2012 had inspired him to succeed in Argentina.
"I was invited to London 2012 as part of the Olympic ambition programme and seeing how it can inspire a nation has made me incredibly driven for the build-up to Sochi," he added.
"I had not had a major competition win in my career but I had made the podium in other events, so I knew I had it in me."
Woods' success will raise hopes that Britain's Winter Olympic squad can build on the unprecedented success of the summer Olympians and Paralympians.
Skeleton star Amy Williams - who had to retire earlier this year - won Britain's only medal in the 2010 Vancouver Games.
GB Freeski manager Pat Sharples said: "This was a huge win for James. He has had a lot of good podium results over the last few years, but this is finally the really big win he deserves.
"Slopestyle was only added to the Olympic programme a year ago so to be out there as World Cup leader is a great way to start off the winter."