Will Golder & Lamin Deen do battle for World Cup spot
Last updated on .From the section Winter Sports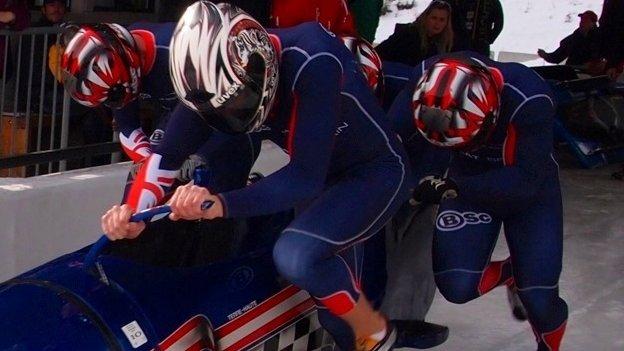 Jersey bobsleigh pilot Will Golder faces a fight for his place in the World Cup and World Championships.
Golder and Lamin Deen are both in contention for the final GB spot after being named in Great Britain crews for the new season.
The duo will battle it out in four Europa Cup races for the remaining British places at the events.
"It was always our intention to develop internal competition," said performance director Gary Anderson.
"That is the only way we will ensure that our progress is continued.
"Both Golder and Deen know what is expected of them, a series of four races, the leader in the world rankings following those races will step up to the World Cup and World Championships."
Bath-based Golder has now been selected for Great Britain for a fourth consecutive season. Londoner Deen, who lives in Manchester, is a former Army sprinter who came seventh as a driver in the 2008 British Championships.
They have been chosen as pilots for GBR 2 and GBR 3 for the season ahead, with John Jackson leading the GBR 1 team.
Jackson's crew clinched a top 10 finish at last year's World Championships.
The British women's line-ups for the 2012-13 season have also been revealed. Paula Walker will pilot GBR 1 while Vicky Olaoye will lead GBR 2.
"Our women's programme is starting to take shape with the two crews looking to establish themselves ready for an assault on Olympic qualification," said Anderson.
"GBR 1 are now established as a crew who on their day can produce a high level performance. I know now that we will be looking to make that next step up and start to put pressure on the world's top five."