Shelley Rudman 'not focused on winning' World Cup meetings
Last updated on .From the section Winter Sports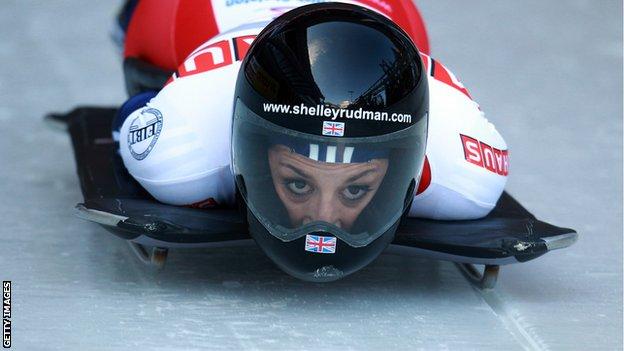 Wiltshire skeleton slider Shelley Rudman has insisted she is not concerned by her opening results at the World Cup.
Rudman won the title last term - claiming five podium finishes out of the eight races, including winning in Koenigssee, Germany.
But this season she has finished seventh, fifth and ninth in the first three meetings.
"I can't focus on winning at the moment," she told BBC Wiltshire.
"My results have been a little bit off, which I expected, but it's about trying to find my limits on the sled and I need to be testing things in races.
"I won the overall World Cup series last year and everyone expects me to carry on from that and win every single race.
"But it's not like that - you can't win everything."
This season's World Cup features nine races, with the final meeting in February in Sochi, Russia, where the Winter Olympics will be held the following year.
And Rudman, who won silver at Turin in 2006, is making the 2014 event her priority.
"The main masterplan is to bring everything together for the Olympic season next year," she added.
"I will know exactly what I'm on and I won't have to worry about any 'what ifs' because I'm doing all of them at the moment in the World Cup races.
"It's an experimental year."