Elise Christie stays speed-skating world No.1 after Japan win
Last updated on .From the section Winter Sports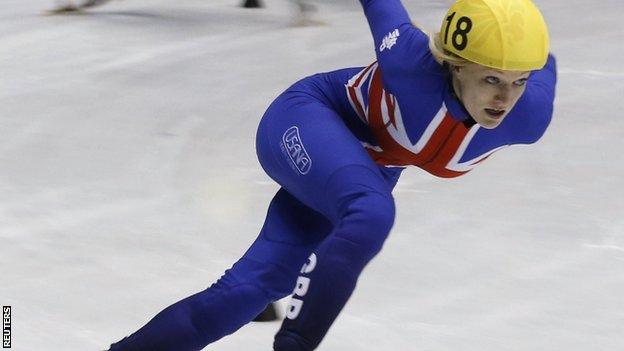 Britain's Elise Christie won the women's 1000m at the short-track speed-skating meet in Japan - her first World Cup victory of the season.
She took silver in the 1,500m and the results cement Christie's position as World Cup leader.
The 22-year-old clocked a time of 1:30:48 seconds to win gold in Nagoya, almost a second ahead of South Korea's Kim Min-jung.
"It was a big relief that everything went to plan."
She added: "It's great to finally have a gold after being so close in the last two rounds,"
GB short-track performance director Stuart Horsepool added: "Elise coped immensely well with the added pressure of being world number one and responded with a dominant performance.
"The fact she was able to do this is a really good sign because it shows she has the physicality, and now she's really developing her other skills as well."
Valerie Maltais of Canada, who is second in the overall standings behind Christie, didn't make the A final, meaning that Christie's overall lead has been extended to 1,272 points.
Christie, who trains in Nottingham, was unbeaten throughout the 1000m competition, having won her heat, quarter-final and semi-final before she took first place in the final.
Christie's fellow Brits struggled in Japan, with Charlotte Gilmartin ninth in the 1500m, while Jack Whelbourne only made it to the repechage semi-finals in the men's 1000m.
Two-time Olympian Jon Eley, Richard Shoebridge and Paul Stanley all made the repechage semi-finals of the 1500m.