No-one ever thought we would die - Emily Sarsfield
Last updated on .From the section Winter Sports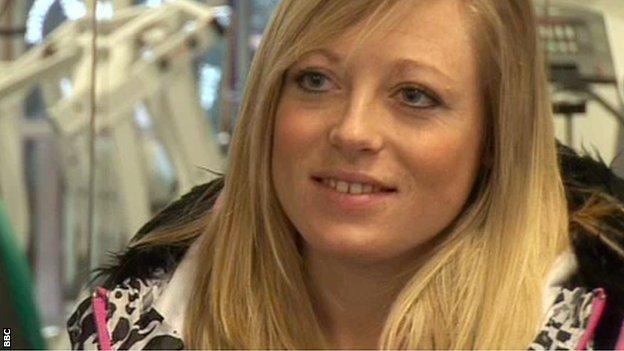 When Emily Sarsfield witnessed the death of a close friend, the British number one admits it made her think long and hard about the dangers of ski cross.
The Winter Olympics hopeful was at a World Cup event in March when Canadian Nik Zoricic was killed in a heavy crash.
"We all know that we are taking risks - that we could get injured - but those injuries have always been a knee, a shoulder, a hip," said Sarsfield.
"No-one ever thought we would die."
Zoricic, who was 29, died after crashing into safety nets near the final jump of a race in Grindelwald, Switzerland.
"To witness Nik die on that day was unbelievable and just made the sense of our sport being extreme a reality," said Sarsfield,
"To actually witness one of your friends go down like that and have a such a huge impact is pretty difficult.
"The guy was doing everything in his power to be the best on that day and he paid the biggest price for that.
"He was such a good guy, such a good skier.
"It was a huge impact and I was nearly sick when I saw it. I left Grindelwald shortly after and hopefully people have made changes to the courses so nothing like that will ever happen again."
Sarsfield, 29, is now focusing on trying to gain at place at the 2014 Winter Olympics, in the Russian city of Sochi.
Her event was introduced to the Games in Vancouver in 2010. In a ski cross race, four competitors race against each other over a specially constructed course that includes jumps and turns.
Sarsfield took up the event seven years ago, having started out as an alpine skier.
She started skiing competitively at the age of 12 and was picked to represent England for the first time a year later, She switched to ski cross in 2005, finishing sixth at that year's World University Games and winning the British title five times since.
At a test event in 2009, Sarsfield snapped knee ligaments and sustained a fractured femur and fractured tibia. Although she recovered, she was overlooked for the 2010 Winter Olympics in Vancouver, with Sarah Sauvey being selected instead.
Sarsfield is determined to compete in Sochi, telling BBC Radio 5 live: "If I can get on that podium, it would be amazing and would change the whole perception of winter sports in the future.
"Sochi is going to be amazing. The Russians have put a lot into this and I want to be there and represent Team GB."
The full interview with Emily Sarsfield will be broadcast as part of 5 live Extreme, on BBC Radio 5 live, on Thursday, 6 December at 21:00 GMT.