Olympic sprinter Craig Pickering takes up bobsleigh

By Nick Hope
BBC Olympic sports reporter
Last updated on .From the section Winter Sports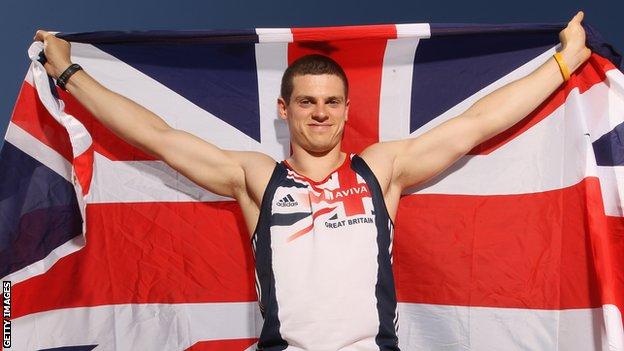 Ex-Olympic sprinter Craig Pickering has joined the GB bobsleigh team and wants to compete at the 2014 Winter Games.
Pickering, 26, raced in the 100m at Beijing four years ago but missed London 2012 after back surgery, losing his UK Athletics funding in October.
"It's been frustrating because I felt good enough to get funding," Pickering told BBC Sport.
"But I've been in athletics for so long I started to feel a bit jaded. This is a new challenge I'm really excited by."
"It's great to have another opportunity and to go to a Winter and Summer Games, which not many people have done, would be incredible."
The move follows the US bobsleigh team's recruitment of two-time Olympic hurdler Lolo Jones to their programme.
Alongside pilot Jazmine Fenlator, she finished second on her World Cup debut, in the US resort of Lake Placid last month.
The British bobsleigh team have also shown impressive form in their early part of the season, with the men's team currently ranked fourth in the world.
"Our performances across the board have been exactly what we required in this important pre-Olympic season," said GB performance director Gary Anderson.
"I make no apologies for the fact we are always looking to recruit new athletes, we are a talent-transfer sport. The USA have recruited well this year and saw immediate returns with Lolo."
Anderson, who oversaw the sport's first-ever Youth Olympic silver medal in January, added: "We're delighted that Craig has made the decision to switch to bobsleigh.
"He is perfectly suited to the sport and having athletes of his calibre will once again raise the bar in terms of athletic performance."
Pickering added: "I do hope I can help GB bobsleigh, but with their recent results I know I'm going to have to push myself really hard."
Once dubbed a potential "saviour of UK athletics" ahead of the Beijing Games, he said he was not entirely finished with athletics, stressing that he intends to complete a full indoor season this winter as well as being fully committed to a career in bobsleigh.
"I am not in it just for Sochi [2014 Olympics] and then heading off back to athletics, I am in it because I want to do it for a long time," said Pickering.
"Bobsleigh training and athletics training isn't as different as people will think and the initial plan is to do some indoor athletics as well as bobsleigh and ease into the new regime.
"Ultimately I want to help them be in the mix for a medal [in Sochi 2014] and all of my efforts will be in that," he added.
Pickering is not the first to make the switch between sports. There have been a number of athletes, including ex-sprinters Marcus Adam and Allyn Condon and former GB bobsleigher Nicola Minichiello, who now coaches the Dutch national team, who began her career in the heptathlon.
After making the switch she became bobsleigh world champion alongside Gillian Cooke, herself a former long jumper.
Former Commonwealth decathlon gold medallist Dean Macey also took up the bobsleigh after his retirement from athletics in 2008.
Along with former sprinter Jason Gardener, the pair could only finish sixth in the two-man event at the 2008 British Bobsleigh Championships and ultimately failed to reach the 2010 Winter Olympics in Vancouver.