Eve Muirhead targets medal at World Championship
Last updated on .From the section Winter Sports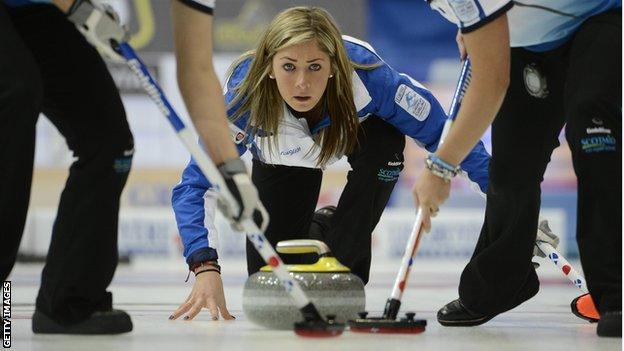 Eve Muirhead has set her sights on World Championship success after Scotland's silver medal at curling's European Championships.
Latvia host the women's World Championship in March but Muirhead's rink will first need to secure the Scottish title to compete in Riga.
"We know what we need to work on and we will be really going for a medal place out there," Muirhead told BBC Scotland.
A silver medal in 2010 has been Muirhead's best World Championship showing, while Saturday's 6-5 defeat to Russia meant a second European silver to go with the gold she won last year.
"It's always tough losing a final," said the 22-year-old from Dunkeld Curling Club.
"Getting the gold last year and coming away with the silver this time makes it a little bit tougher.
"When you get to a final, you don't want anything else other than the gold medal.
"The game could have gone either way but we have so many positives to take from this. It was a pretty good performance from us.
"We are still a young team and have lots to work on."
Skip Muirhead was joined on the ice in Karlstad by Anna Sloan, Vicki Adams, Claire Hamilton and alternate Sarah Reid.
The rink have a busy schedule to consider before thoughts can stray to mounting a challenge in Riga.
"We've got the Continental Cup coming up in January and that's going to be a great event," added Muirhead.
"We want another win for team world. The three European teams are one big team and we're against the North Americans.
"Then we have the Scottish championships in February, which is always big. With us being the top-ranked team, there is always a big target on our backs.
"So, we've got a lot to focus on and we need to keep our heads held high."