Elise Christie wins 1000m at European Championships
Last updated on .From the section Winter Sports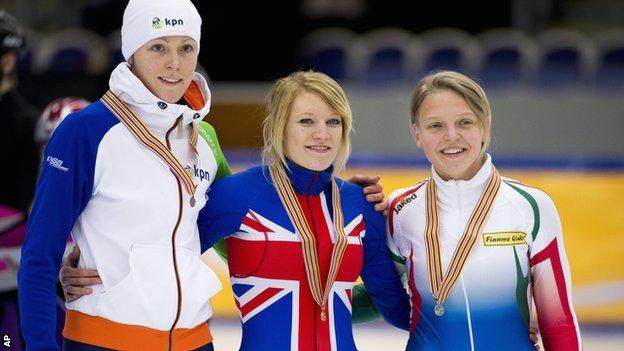 Great Britain short-track speed skater Elise Christie has won her second title at the European Championships in Malmo.
Christie has finished on the podium for each World Cup race this season.
She won the 1000m in a time of one minute 30.445 seconds ahead of Italian runner-up Arianna Fontana and Dutch skater Jorien Ter Mors.
Fellow Briton Charlotte Gilmartin bowed out in the quarter-finals in Sweden.
However, the British team failed to qualify for the final of the women's 3,000m relay, finishing third in Saturday's semi-final.
Christie, Gilmartin, Alex Stanley and Kathryn Thomas finished over 20 seconds behind the top two countries, Poland and the Netherlands.
The men's 5,000m relay quartet - Richard Shoebridge, Paul Stanley, Jack Whelbourne and Jon Eley - fared slightly better but also came third in their semi-final, a split second behind qualifiers Hungary and Italy.
Eley came 11th in the men's 500m event on Saturday, with Stanley back in 16th and Whelbourne 27th.
Fontana won the women's 500m event, with Gilmartin ninth and Christie well down the field in 27th.
It left Fontana top of the overall classification, with Christie in second place and Gilmartin seventh.
Dutch skater Freek van der Wart led the men's overall classification, with Eley 11th and Paul Stanley 14th.
BOBSLEIGH
Great Britain's four-man bobsleigh team of John Jackson, Stuart Benson, Bruce Tasker and Joel Fearon finished sixth at the World Cup event in Igls, Austria, on Sunday.
The second British team - Lamin Deen, Jim Galvin, Ben Simons and Andrew Matthews - were back in 19th, while Germany's top two crews finished first and third, either side of the second-placed Swiss.
On Saturday, Jackson and Craig Pickering finished 21st in the men's two-man bobsleigh standings, with their time of 53.27 seconds just outside the top 20 which would have qualified them for a second run.
Former Olympic sprinter Pickering was recently selected for Britain's World Championship squad, just a month after switching sports.
SKELETON
Also in Igls, Britain's Kristan Bromley finished 10th in the men's World Cup skeleton event in a time of one minute 47.63 seconds, finishing a split second faster than British team-mate Dominic Parsons, who was 11th in 1:47.65, with Ed Smith (1:47.83) back in 14th.
Bromley was two and a half seconds slower than Saturday's winner, Martins Dukurs of Latvia.
Elisabeth Yarnold was the highest-placed Briton in the women's event on Friday, finishing eighth in 1:51.35, just ahead of Shelley Rudman who was 11th in 1:51.55, while Donna Creighton finished 15th in a time of 1:51.79.
SNOWBOARDING
Britain's Billy Morgan finished just outside the podium places in Friday's slopestyle event at the World Snowboard Championships in Canada.
His best score, 85.25, was five points adrift of the bronze medal position, while Finland's Roope Tonteri was victorious with a score of 93.75.
Jamie Nicholls was the second highest-ranked Briton in 14th, with Sam Turnbull 30th and Nate Kern 51st.
SKIING
Britain's Chemmy Alcott finished 36th in the alpine skiing World Cup event in Cortina, Italy on Saturday.
Her time of one minute 41.92 seconds was 3.67 seconds slower than United States skier Lindsey Vonn, who was quickest in a time of 1:38.25,