Sochi one year to go: Britain targets 'greatest' Winter Olympics
By Nick Hope
BBC Olympic sports reporter
Last updated on .From the section Winter Sports46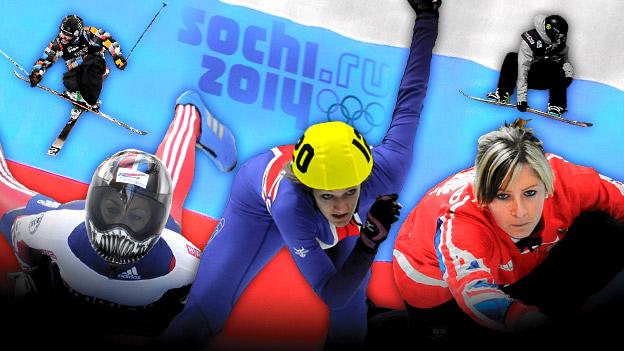 Great Britain basked in the glory of a tremendously successful London 2012, winning a total of 65 medals, including 29 golds, as the nation was whipped into a supporting frenzy.
And in a year's time, Team GB's snow and ice athletes could also be on for a record-breaking Winter Olympics.
Britain's most successful Winter Games was in 1924 when they won four medals - gold in curling, silver in bobsleigh and bronze in figure skating and ice hockey.
But in Sochi, Russia, could GB rewrite the record books?
Short-track speed skater Elise Christie certainly thinks so. She is Britain's first World Cup champion at 1,000m and has been on the podium in every race at that distance this season.
She's not alone, as Britain also boasts a world champion skeleton slider in Shelley Rudman, a double World Cup gold medallist and X Games bronze medallist in freestyle skier James Woods and a number of other athletes with genuine podium potential.
So there is real cause for optimism that Britain can return with more than the one solitary medal they won in Vancouver in 2010, albeit a gold from Amy Williams in the skeleton.
"I do think this is going to be the most successful Winter Olympics ever for Britain," Christie told BBC Sport. "Watching people like Amy Williams influences people, you realise you can do it.
"Now there are more British people [doing well in winter sports] and that is such a good thing to be part of. Hopefully it will all work out in Sochi."
Britain have only won 22 medals in their Winter Olympic history, but when you consider the lack of natural resources, facilities and limited funding, any medal is a fantastic achievement.
UK Sport has more than doubled the funding from the £5.8m for the Vancouver cycle to £13m for the Sochi campaign, whereas summer-sport counterparts will have £276m invested in them on the road to Rio 2016.
To mark one year until the 2014 Winter Olympics, BBC Sport looks at where the medals could be won.
BOBSLEIGH
Funding to Sochi: £3,209,450
Previous Olympic success: Gold: 1964 [two-man], Silver: 1924 [four-man], Bronze: 1936 and 1998 [four-man]
Put simply, Vancouver 2010 was a disappointing Games for the four-time Olympic medal-winning bobsleigh team.
Nicola Minichiello and Gillian Cooke, who were world champions the previous year, failed to finish, as did the men's two-man team.
The men's four were 17th and the GBR 2 team came 11th.
Results since have demonstrated an improvement, and in 2012 Mica McNeill and Jazmin Sawyers claimed an historic Youth Olympic silver in Innsbruck, Austria.
Paula Walker and Gillian Cooke have been consistently in the World Cup top 10 and the men's four-man finished an impressive, yet agonising, 0.07 seconds from the podium in a fifth-place finish at this year's World Championships in Switzerland.
There is also hope that the addition of former British Olympic sprinter Craig Pickering can boost the men's two-man prospects.
"My objective was to create a sustainable programme that would ensure success at major championships," performance director Gary Anderson told BBC Sport.
"Modern bobsleigh requires a fast, explosive start and a recruitment drive to bring in top-class athletes has meant we are now amongst the fastest starters in the world.
"In the past three years we have won titles and medals at World Junior, Youth Olympics, Europa Cup, Americas Cup and have registered top-five results in the World Cup."
CURLING
Funding to Sochi: £2,055,100
Previous Olympic success: Gold: 1924 [men] and 2002 [women]
It is the sport perhaps best-remembered among British fans for an epic match against the Canadians in 2002 which went long into the night in the UK, before Rhona Martin led her side to Olympic gold against Switzerland.
In 2010, the women's team were among the medal favourites but failed to progress from the group phase. Skipper Eve Muirhead says the team is now progressing well ahead of Sochi.
"We got silver at the European Championships and, even though last season we got gold, I'd say we're a lot better team this year," said Muirhead.
"In the tour events we've had a good season, we've got the Scottish Championships and we have to win that to qualify for the World Championships.
"That's a very important event, because I'd like to think that - were we to win and get our selection for the Worlds - that would put us one step closer to the Olympics."
GB winter sport performance director Mike Hay said: "The women's team have been on the world and European podiums the last couple of years.
"The men's team have been world silver medallists these last two years but I have to say they haven't shown good form this season."
SHORT-TRACK SPEED SKATING
Funding to Sochi: £2,953,400
Previous Olympic success: Bronze: Nicky Gooch [1994] 500m
No British athlete has ever dominated the world of short-track speed-skating quite like Elise Christie has this season.
With one race remaining she has already secured the 1,000m World Cup title after her seventh podium finish in the Winter Olympic arena in Sochi last weekend.
Britain won four medals at the European Championships in Malmo, and the squad has recorded a number of top-eight finishes in World Cup races.
The team's next challenge will be the World Championships in Debrecen in Hungary from March 8-10.
Performance director Stuart Horsepool said: "The performances we had in Sochi have been the best we've had all year, and to be getting these results at the test event for the Olympic venues is a fantastic place to do it.
"Because the team have had good results here they now have good feelings and positive emotions linked to the venues here in Sochi, which is very important psychologically ahead of next year's Games. We are very much looking forward to coming back here for the Olympics."
SKELETON
Funding to Sochi: £2,055,100
Previous Olympic success: Gold: Amy Williams [2010], Silver: Shelley Rudman [2006], Bronze: David Carnegie [1928], John Crammond [1948], Alex Coomber [2002]
Skeleton has been Great Britain's most successful Winter Olympic sport in recent Games.
Four years prior to Amy Williams' 2010 Vancouver gold, Shelley Rudman claimed silver in Turin, Italy and her victory at last week's World Championships in St Moritz, Switzerland, coupled with the overall World Cup title last season, demonstrates her continued podium potential.
She is not alone though. Lizzy Yarnold, 24, came through the British selection trials ranked number one and the 2012 Junior World Champion has consistently challenged for World Cup medals since making the step up to senior competition last season.
"We have a really good group of athletes who respect one another, so we travel as a team but race individually, which is quite unique," Rudman told BBC Sport.
"After winning [at the Worlds], I have to go back to the drawing board now and get things right for the big one.
"We have a test on the Sochi sliding track coming up next week, but if I am clear of injuries and fit it would be a privilege to qualify for a third Games."
Her partner Kristan Bromley, who won the men's world title in 2008, and Ed Smith have so far failed to challenge the podium places this season but will be expected to qualify for Sochi.
SKI AND SNOWBOARD
Funding to Sochi: £0 for alpine, £584,300 for freestyle skiing and snowboarding [to be revised by UK Sport in March 2013]
Previous Olympic success: No medals (Alain Baxter's "bronze" in the 2002 slalom was rescinded for failing a drugs test)
Great Britain has never won an Olympic medal on snow, but that could be rectified in Sochi.
Slopestyle will be making its Winter Olympic debut and Britain just happens to have some fantastically talented freestyle skiers and snowboarders.
James Woods has claimed two historic World Cup titles in the past 12 months and added X Games bronze to his collection last month in Aspen, Colorado.
There are also hopes that snowboarding London Freeze winner Billy Morgan and rising star Aimee Fuller could come into contention, while experienced pair Jenny Jones and two-time Olympian Zoe Gillings will continue to push for finals places in elite events.
GB freestyle skiing head coach Pat Sharples has boldly predicted they could win up to three medals, and the sport's chief executive Dave Edwards agrees there is strong potential in the team.
"We have had some of the country's best results in the last year and there is a realistic chance of getting an athlete on the podium," he said.
"We are continuingly looking for support financially to try to help boost the backing we can offer athletes, but we are all in a positive mood and are feeling confident with a year to go until the Games."