Andrew Musgrave's cross-country dream
Last updated on .From the section Winter Sports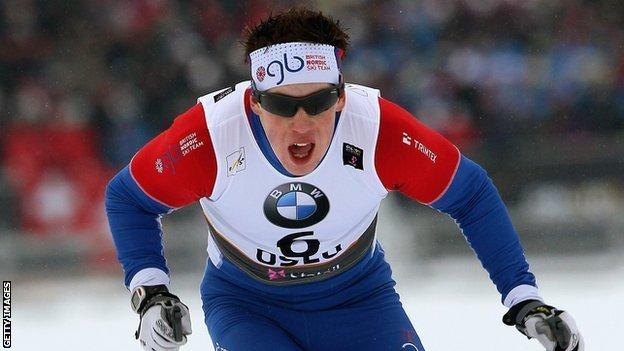 "My life would have been quite different," says Andrew Musgrave, having been asked how things might have panned out had he not attended a school with cross-country skiing on the timetable. At which point, bang on cue, a couple of his mates walk in and start dancing around in the buff.
Mercifully, I am on the phone in Salford and he is holed up with man flu - his words, not mine - in Davos, Switzerland. And anyway, these alpine types tend to have an altogether more relaxed attitude towards nudity, whether you're on the phone to an extremely serious BBC Sports journalist or not.
Even before the intervention of his liberal room-mates, Musgrave was musing on how unusual his life was. Although, in truth, he took some persuading to muse. In common with many young athletes I have interviewed, Musgrave - British cross-country skiing's tentative hope - is not inclined to think too deeply about how, why and where he ended up.
Born in Dorset, Musgrave started skiing after his father, who works for an oil company, moved the family to Alaska when his son was five. Musgrave returned to Scotland when he was 10 and, as luck would have it, his school in Huntly, Aberdeenshire, happened to have a Nordic skiing club.
"It's one of only two cross-country skiing clubs I know of in Scotland," says the 22-year-old, fresh from an encouraging 18th place in a World Cup race in Sochi, Russia, where the Winter Olympics will be staged next year.
"Random, I know. Then, from the age of 13 or 14, I started going to races in Europe and I always ended up getting thrashed. Last, pretty much all the time."
But - and here's the moral of the story, kids - Musgrave kept slogging away through his rivals' slush and, hey presto, one day he stopped getting shown up.
"I used to be rubbish, get completely demoralised," says Musgrave, who will be turning out for Britain at the World Championships in Val di Fiemme, Italy, which runs between 20 February and 3 March.
"The first time I thought I possibly wasn't completely useless was when I was 17. Before then I had always finished somewhere near the back of the pack. But in this particular race, in Norway, I finished 12th. It was then that I realised that maybe I could end up being all right."
Armed with a training programme devised by Roy Young, head coach of Huntly and the British cross-country skiing team, Musgrave got his head down and carried on improving, finishing ninth in the 2009 World Junior Championships. One Norwegian newspaper referred to him as "a Brit who actually isn't that bad". Thanks for that.
"I chose Norway because cross-country skiing is the biggest sport in the country," says Musgrave, who is studying for an engineering degree in Trondheim. "In the last World Championships in Oslo, they had 100,000 people turning up for the races. I couldn't hear myself breathe."
In 2012, he grabbed a second place in the Norwegian championships, which, as Musgrave explains, is a bit like a Norwegian opening the batting for England. "The next day, all the Norwegian newspapers were slagging off their national team skiers, saying: 'They must be rubbish, getting beaten by a British guy.'
"Meanwhile, my Norwegian friends were saying: 'This is great, you'll be all over the news in Britain!' I had to explain to them: 'No, no, I doubt anyone would have heard about it. It won't be on the front page of The Times.'"
This season has seen Musgrave post two top-20 finishes in World Cup races, with a highest position of 11th. Not quite a celebrity yet, but in a country where cross-country skiers have similar cachet to footballers, his time may come.
"Petter Northug [the Norwegian has seven world and two Olympic gold medals to his name] is one of the best-known people in the country," says Musgrave. "So that's the plan - world domination and lots of money!"
But for now Musgrave has to put up with pesky room-mates acting the goat while he's trying to have a conversation on the phone. Nice work, if you can get it. And not many Britons have. "There were a few British cross-country skiers back in the '80s," says Musgrave, "but I don't know anything about them."
This lack of tradition in his home country means Musgrave's success has many fathers. Quite apart from his actual father. "I've lived a lot off my parents, so I have to thank them a lot," says Musgrave. "But I'm starting to get a little bit more help from elsewhere in the run-up to next year's Olympics.
"I was given something called an Olympic Solidarity Scholarship. I'm not entirely sure what that is, but it's quite a lot of money and I've ended up getting one." For the record, it comes from those kind people at the IOC and is handed out to athletes from countries with not much pedigree in particular sports.
"I also get help from Sportscotland and the Scottish Institute of Sport," Musgrave continues. "And I should also thank" - at which point Musgrave begins to sound like he's just won an Oscar - "my private team in Norway, Team Veidekke, who cover training costs and give me a wage… as well as the British teams in World Cups and internationally…"
It makes you think. Whether they are a believer in fate or coincidence, every British athlete who has been delivered to the top echelons of their sport should be truly grateful for such support, especially in these straitened times.
"I love what I do and I'm very privileged to be doing it," says Musgrave, his room-mates' backsides already a distant, if hideous, aberration.