Eve Muirhead and Tom Brewster retain Scottish titles
Last updated on .From the section Winter Sports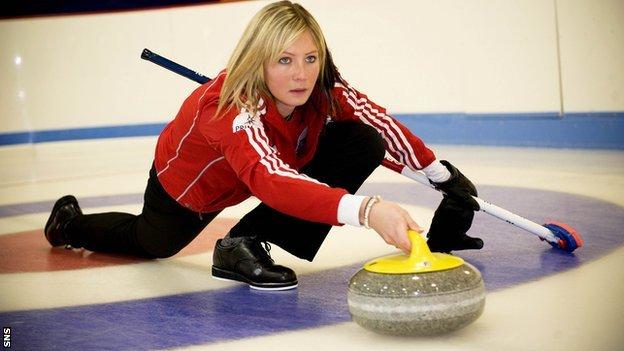 Eve Muirhead and Tom Brewster helped their teams retain their respective women's and men's Scottish curling titles in Perth on Sunday.
Going for her fourth national triumph, Muirhead's Perth-based team of lead Claire Hamilton, second Vicki Adams and third Anna Sloan beat Hannah Fleming's Lockerbie rink 8-4.
And Tom Brewster's Aberdeen team won by the same score for their third successive national title.
They beat Logan Gray's Stirling rink.
Fleming led 4-2 at the halfway point but the reigning champion came back to win when she ran Fleming out of stones in the tenth end with a double take-out.
Muirhead, who now goes on to lead Scotland at the World Women's Championship in Latvia next month, said: "It was a game of patience out there.
"We were two down at half-time but we came out with a pretty solid 100% second half.
"We knew we were going to get our chances and we managed to come up with that big three.
"We cottoned on pretty quickly to the ice getting a little faster and straighter.
"We figured that out before them and that's where the experience shows up."
Fleming will defend her world junior crown at the World Junior Championships in Sochi at the end of February.
In the men's final, the Brewster team moved into a 3-0 lead after the second end when Gray came up short with his final draw.
The teams swapped twos in ends three and four, and then singles in the fifth and sixth before Brewster's team led 8-3 after seven ends.
David Murdoch cleared out three stones as well as his shooter with his last stone of the eighth, and when Gray scored a single point he immediately conceded the game.
Brewster's team will now represent Scotland at the World Men's Curling Championships in Victoria, Canada, at the end of March.
They have won two silver medals from the last two world championships.
"We've played pretty solidly all week and I don't think there's any doubts we're the best team here," Brewster told the Royal Caledonian Curling Club website.
"We've worked hard and it's paying off and I'm sure we can play even better in the worlds. We've got unfinished business there and it would be nice to go one better."