Shelley Rudman 'had skeleton funding cut after pregnancy'
Last updated on .From the section Winter Sports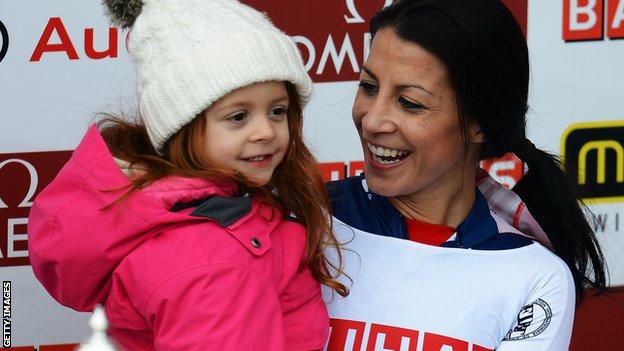 World Skeleton champion Shelley Rudman has revealed her funding was reduced when she returned to the sport after giving birth.
Just three months later Rudman made her comeback to competitive racing in order to meet funding targets.
"The transition from being pregnant to coming back in to racing was quite a volatile time," she told BBC Wiltshire.
"My funding got reduced and I had targets to meet. Three months after Ella was born I had to hit targets and when I did my funding incrementally increased.
"Ella was born in early October and by January I was back out on the ice and competing. Fortunately I was doing really well and won a few races, but it was a real worry."
UK Sport introduced a maternity policy in 2011, and cases are dealt with on an individual basis.
A spokesman said: "In situations whereby an athlete in receipt of a APA [Athlete Personal Award] funding becomes pregnant, UK Sport and the National Governing Body [NGB] of the sport reviews each athlete on a case-by-case basis.
"To continue to receive funding during pregnancy, and after childbirth, an athlete would have to agree an appropriate training and competition programme with their performance director that would timetable and plot the return of the athlete after childbirth to full competitive level."
But Rudman says that at the time she was given no guidance on her situation: "I was new to our association as a pregnant athlete.
"At the time they didn't know how to deal with me coming back into the sport, with regards to my funding."
And Rudman and her fiancé, former skeleton world champion Kristan Bromley, have seen a huge difference since changes have been made.
"Since then we've had a new performance director who totally understands our situation. Kristan and I are both competing, which is different, but we work it really well between us and we rely heavily on our families for support."
The 2006 Olympic silver medallist was speaking as a BBC Sport elite sportswomen survey found of the 27 athletes with children, 18 (67%) said they needed more childcare support.
Rudman's daughter often accompanies her and Bromley to competitions, and was present last month when Rudman became the first British woman to win skeleton gold in the world championships, in St Moritz in Switzerland.
Rudman added: "I love the fact that Ella is being inspired to do sport by watching us compete. She sees us go through all of the emotions of winning and losing.
"It's good to be a role model for women as well, just to show that if you are really smart about the way that you do it, and you've got really good back up and support, you can achieve really good things."