Serita Shone completes recovery with bobsleigh bronze
By Nick Hope
BBC Olympic sports reporter
Last updated on .From the section Winter Sports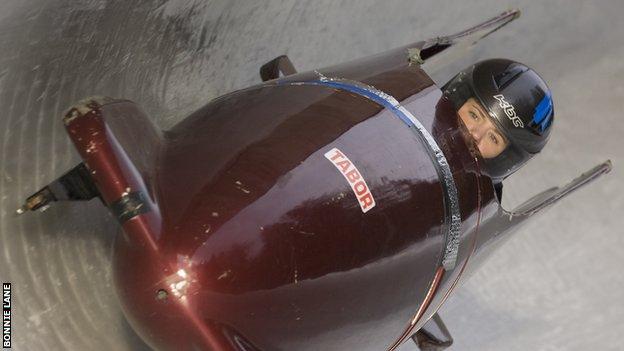 Serita Shone completed her incredible return to bobsleigh by winning a bronze medal with Sian Huxtable at the British Championships in Igls, Austria.
It had been feared the 23-year-old would never walk again.
"I shed a tear before the race. I was so proud to make it to the start line of my first race," she told BBC Sport.
"I've had a whirlwind of a year trying to get back to being competitive at an elite level. I'm really happy."
The race was won by Vicky Olaoye and Sarah Adams with Deni Milner and Jo Nightingale second.
Before the competition, Shone, who has switched from brakewoman to pilot, admitted that with few competitions remaining between now and next year's Sochi Olympics her chances of qualifying for the Games in Russia are slim.
However, now fully fit, she is targeting a long-term career in the sport with the hope of reaching the 2018 Games in Pyeongchang, South Korea.
Shone added: "Sian [Huxtable, Shone's brakewoman] has been so supportive coming out here to partner me and she ran really well on the back of the bobsleigh.
"To be on the podium in my first British Championships as a novice driver with only a handful of runs makes me really pleased."
Vancouver Olympian John Jackson and Bruce Tasker won the men's two-man competition.