James Woods wins slopestyle silver at ski World Championships
Last updated on .From the section Winter Sports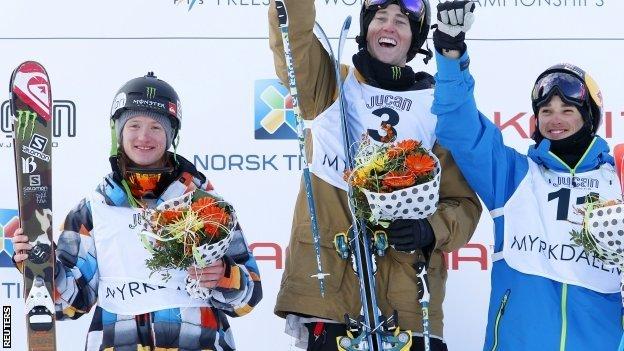 James Woods has won Great Britain's first freestyle skiing medal at a World Championships in 20 years after winning slopestyle silver in Norway.
The 21-year-old was given a score of 91.2 to place him second behind American Thomas Wallisch.
In the women's event, Britain's Katie Summerhayes finished outside the medals in fourth place with a score of 72.2.
Slopestyle, where snowboarders and skiers are judged on tricks, will be a new event at the 2014 Winter Olympics.
"I'm absolutely thrilled," Woods told BBC Sport.
"To do those tricks you have to be really bang on, and I feel like my second run was pretty close to it."
The bronze medal in the men's event was taken by American Nicholas Goepper in Voss-Myrkdalen.
There were three other Britons in the field, with Zhachary Pham finishing in 46th just ahead of Paddy Graham in 47th, while Tyler Harding came 57th.
The women's gold medal was won by Canadian Kaya Turski, who scored 89.6, with compatriot Dara Howell taking silver and American Grete Eliassen collecting bronze.
Summerhayes, who describes Woods as her best friend, has already qualified for next year's Winter Olympics as she continues to hit form on her comeback from a knee injury.
"There is no happier coach in the world at the moment," said Britain's freestyle skiing coach Pat Sharples.
"James produced an absolutely brilliant run to take silver, and what Katie has achieved so soon after coming back from injury has been amazing.
"The team is in a great place at the moment. There is a lot more work to do but we are in the best position to smash it heading into the Olympic season in 2014."