Skater Jon Eley disqualified in World Championships semi-final
By Nick Hope
BBC Olympic sports reporter
Last updated on .From the section Winter Sports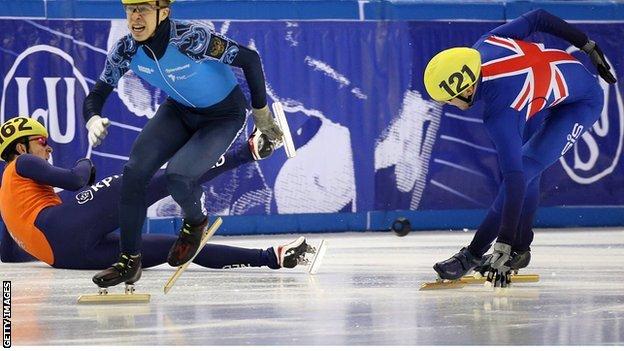 British speed skater Jon Eley was left frustrated after disqualification in the 500m semi-finals cost the skater a chance of challenging for a World Championships medal in Hungary.
Eley, 28, was last of the four athletes heading into the final lap.
But he moved into contention after world record holder J.R. Celski fell.
Dutchman Freek van der Wart then spun out meters from the line, but it was ruled that Vancouver Olympian Eley was responsible for the fall.
Team-mate Elise Christie also failed to reach the final in the women's 500m, but will return for her favoured 1,000m event on Sunday.
The 1,000m World Cup champion is likely to be Great Britain's final medal hope of these World Championships in Debrecen after the men's 5,000m relay squad of Eley, Paul Stanley, Jack Whelbourne and Richard Shoebridge were eliminated in Saturday's semi-finals.
The team, who broke the world-record back in February 2011, showed their potential to challenge for honours at next year's Olympic Games but were edged out by the Netherlands and Russia.
Stanley and Charlotte Gilmartin both reached the 500m quarter-finals but would progress no further.
"It was disappointing because I felt I was a little bit impeded at the start, but the referee wasn't interested in any of that," Eley told BBC Sport after his disqualification.
"It's tough, you try to get used to it but it's hard in a semi-final of a World Championships when you get a call like that.
"My performance was spot on though and I can take confidence from that going into next season. I just perhaps need to work on my execution a little."
GB performance director Stuart Horsepool added: "Overall we skated well with everyone making the quarter-finals and top-16 against the best of the World, which is positive.
"It hurts [when you're disqualified] but you have to have the passion to keep coming back and we're still in the mix, not far from those results we're after."
Speaking to BBC Sport ahead of her bid to become the first British woman to win a short-track speed skating World Championships medal on Sunday, Christie said she is feeling confident.
"I enjoy doing the 500m, but I'm really inexperienced in it and up against girls who have been competing in the event for at least three years since Vancouver.
"I'm sure I'll be nervous [about the 1,000m] but I'm looking forward to getting out there and doing something I have more experience in."
China's three-time Olympic champion Wang Meng won the women's 500m final ahead of 1500m champion Seung-Hi Park of South Korea.
The men's 500m event was also won by a Chinese athlete as Liang Wenhao edged out Russia's Victor Ahn for gold.