Elise Christie wins historic world short-track bronze
By Nick Hope
BBC Olympic sports reporter in Debrecen
Last updated on .From the section Winter Sports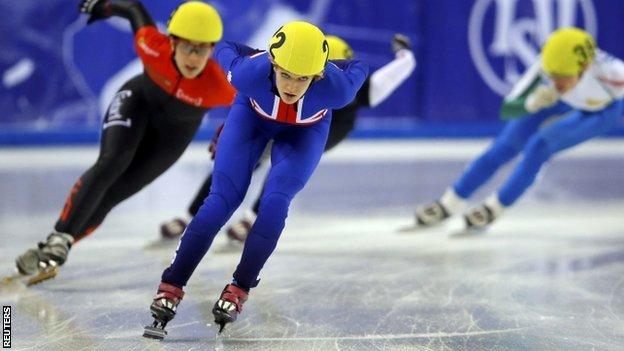 Elise Christie finished third in the 1,000m to become the first British woman to win an individual World Short Track Speed Skating Championship medal.
The 22-year-old held off the challenge of China's Yang Zhou, who was later disqualified, to secure the final podium place in Debrecen, Hungary.
The race was won by Meng Wang in one minute, 31.549 seconds ahead of Jorien ter Mors of the Netherlands.
Christie ended a busy week by finishing fifth in the 3,000m 'superfinal'.
The Scot, who became GB's first-ever World Cup champion in February, qualified for the extra race by finishing sixth in Friday's 1500m, seventh in the 500m and third in the 1,000m to secure a combined top-eight ranking.
"I haven't been smiling much unfortunately because I've found the weekend a bit tough and not much has gone my way really," Christie told BBC Sport.
"When I crossed the line I was really happy, it was just that I knew it would be a 50/50 call [on whether I would be disqualified] so I really wanted to celebrate but didn't want to do it too early.
"I have got quite a lot of work I want to do for next year.
"This season there has been a lot of speed focus to get stronger at my weaker event [the 500m] and I haven't done as much stamina training so I think it would be good to go back to a bit of that and find my super-strength and hopefully I'll have more of a fighting chance [at the 2014 Sochi Winter Olympics] next year."
GB short track performance director Stuart Horsepool was pleased with Christie's showing in Hungary. He added: "Elise skated well and particularly as she was under a lot of pressure to win Great Britain's first medal.
"She performed well against a number of seasoned competitors and all this will help her cope with the same kind of environment in the future."
Team-mate Jon Eley impressed en-route to the quarter-finals of the men's 1,000m but the 500m specialist lacked the endurance pace needed to progress any further.
There was disappointment for fellow British skater Paul Stanley, who failed to qualify from the preliminary round.
And European 1500m medallist Charlotte Gilmartin was eliminated in the women's heats after it was ruled she impeded an opponent.