Elise Christie admits 'nerves' as she targets Olympic gold
By Nick Hope
BBC Olympic sports reporter in Debrecen
Last updated on .From the section Winter Sports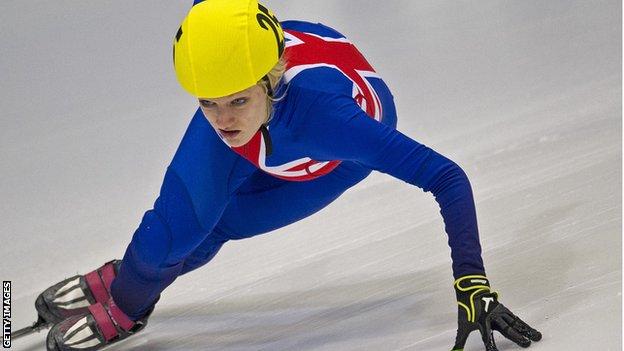 British short-track speed skater Elise Christie believes handling nerves will be key to winning Winter Olympic gold in 2014.
Christie, 22, was one of the favourites in Debrecen and admitted that brought attention she was not comfortable with.
"It's been harder as I've never had to deal with it before," Christie said.
"It's the first year where I've ever gone into a World Championships thinking that I might win a medal.
"Before, I was just trying to reach the semis and see what I could do. To hear people saying 'she's going to win a medal' brought a lot of pressure."
Although Christie has competed at the top-end of her sport since qualifying for the 2010 Vancouver Olympics, where she placed 11th in the 500m event, her progress over the last 12 months has been astounding.
In the 2011-12 season the Nottingham-based skater claimed three World Cup podium finishes, but this campaign there have been nine, plus two European Championship medals and now a further honour at the Worlds.
British performance director Stuart Horsepool believes competing in all three individual disciplines - 500m, 1000m and 1500m - will help alleviate some of the pressure Christie places on herself in her favoured 1000m event.
"People race differently against you once you become 'known'," Horsepool said.
"They knew they couldn't allow Elise to get to the front and dominate so no-one in the quarter-final, semi-final or final allowed that to happen - she has to learn different race plans, different techniques.
"It's not easy, you can't become mechanical, so you must repeat it time and time again in training so it becomes an instant reaction to an action."
Christie admitted: "I need to learn more about racing in the pack because everyone knows I like to lead from the front.
"I'll focus on that in training a lot over the coming months, deal with my weakness, build on my strategy and get the laps in so that I'm really strong, with even more stamina for next season."
The British team will now take a month off to recuperate following a long season, but will return for training in late April.
They will also meet with UK Sport in June, when it is hoped GB's results over the past year will help the set up secure more financial support for their preparations leading into the 2014 Sochi Winter Olympics.