Top-10 finish for GB pair would be success, says Robin Cousins
Last updated on .From the section Winter Sports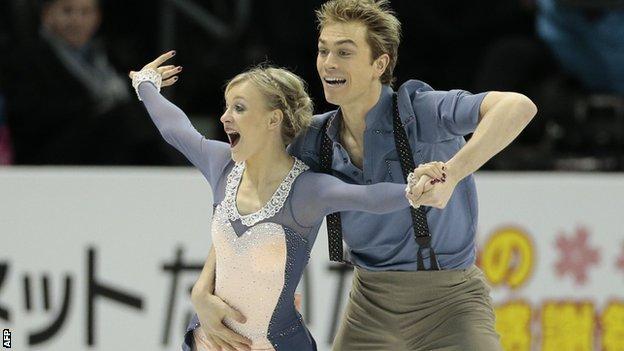 Former Olympic champion Robin Cousins feels a top-10 finish for ice dancing duo Nicholas Buckland and Penny Coomes at the World Championships would be a success for the British pair.
Buckland and Coomes are competing at the World Figure Skating Championships in Canada this weekend.
Cousins does not expect them to win, but he thinks the experience could help them achieve an Olympic medal in 2018.
"This is their chance to impress," Cousins said.
"They came fifth in the European Championships and while they are not prospects for medals in Sochi, in four years after that they will be looking to medal."
Great Britain also have Jenna McCorkell competing in the ladies singles plus Stacey Kemp and David King taking part in the pairs skating.
But the skaters are not in the mix for a medal finish at the event.
The lack of British competiveness has not diminished Cousins' excitement as he looks ahead to a competition that will provide a guide to the form of the potential medal candidates at the Olympics.
He said: "Anyone who wants to challenge for an Olympic medal, this is their final chance to make a mark.
"We have four different world champions here who will want to make their mark ahead of Sochi.
"In the men's competition, there is Patrick Chan, who is double world champion. He is skating in his home country and he is looking phenomenal at the moment.
"The ladies is really quite open and the ladies Olympic champion Kim Yuna is coming back having not competed for a while and she is in fantastic shape.
"There is a local Canadian girl Kaetlyn Osmond who has won the national championships and she is ripping up the ice at the moment. She has certainly not been put off by the pressure."
The championships also have an interesting sub-plot surrounding 2006 Olympic gold medallist and seven time world champion Evgeni Plushenko, who is not skating at the event.
Performances at the World Figure Skating Championships determine how many skaters each country can send to the Olympics.
And there is pressure on Russia's 17-year-old Maxim Kovtun to earn a top-10 finish to ensure there is a spot available for Plushenko in Sochi.
"That might be the only way Plushenko can compete at the Olympics," Cousins said.
Cousins was the 1980 Olympic champion at a time when Britain was one of the leading nations in the sport.
Jayne Torvill and Christopher Dean won gold in Sarajevo in 1984, memorably receiving 12 perfect scores of 6.0, and lifted four world championships.
But Cousins said the sport has changed immeasurably from those glory days, with British skaters unable to keep up with their rivals.
He said: "The sport has moved on and we are finding it harder to compete.
"What we are seeing now is science fiction from the level of the sport I competed in.
"We were doing three or four jumps in our routine and ladies now are doing five or six.
"The jumps we were doing then are now required in competitions for under-12s."
There is Red Button coverage on Friday, 15 March, and Saturday, 16 March, with highlights on Sunday, 17 March, at 16:00 GMT on BBC Two and BBC HD.
Sue Barker presents the programme alongside Robin Cousins.