Teenage star Katie Summerhayes aims to make Olympic history
By Anna Thompson
BBC Sport
Last updated on .From the section Winter Sports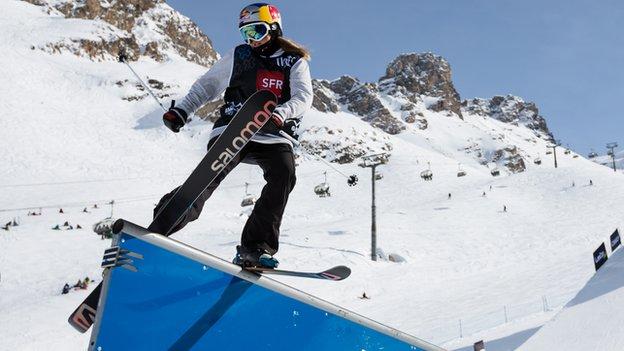 This time last year, teenager Katie Summerhayes was nursing a cruciate knee injury and wondering when she would be able to ski again.
But 12 months on - after reconstructive surgery had sidelined her until November - the 17-year-old from Sheffield has returned fitter and stronger.
The ski slopestyle specialist's results have been impressive with a silver in her first World Cup since returning from injury and a second place at the Austrian Open.
At the recent European Winter X Games in Tignes, where the cream of the freestyle skiing and snowboarding world competed, Summerhayes finished fourth having been called up as a last-minute replacement.
In slopestyle, skiers and snowboarders are judged on the difficulty of tricks they select as they head down a course with rails, jumps and boxes.
Her goal in the next 12 months is to win a Winter Olympics medal. Britain have never won an Olympic medal on snow but in slopestyle, which will be making its Winter Games debut in Sochi, there is a real chance of consigning that statistic to history.
And Summerhayes's ambition is not fanciful over-confidence, it is a distinct possibility.
Most attention so far has rightfully been on fellow Briton James Woods, who has finished the season as the world number one after winning the first two World Cups and adding an American X Games bronze to his growing medal collection.
But in Sochi in 2014, Summerhayes could beat him to the podium as her event is on 11 February, two days before the men's.
"Woodsy is my best mate but what he's achieved on a consistent basis is amazing and really gives the rest of us the belief to go on and do well like him," she told BBC Sport.
Summerhayes' first Winter Olympics memories were from the 2006 Games in Turin and in the 2010 version in Vancouver she watched the freestyle events on television, never expecting she would be one of Britain's best medal hopes just four years later.
She witnessed the emotion an Olympics can evoke when she competed at the Winter Youth Olympics in Austria last year and she was also selected to be a London 2012 torchbearer in her home city.
"I'd never experienced anything like it. It was one of the best experiences ever," she said at the time.
Regarding Sochi she says "it's harder to get into an X Games than it is an Olympics but to win medal in Sochi would be a massive achievement."
It's a far cry from when she first started at the age of six on a dry ski slope, where they had alpine and freestyle classes.
"I found freestyle a lot of fun and started doing it more and more," she remembers.
Her first taste on the mountain came at the Brits (British freeski and snowboarding Championships) in Laax in Switzerland when she was 12, competing on the same course as the adults.
"It was pretty scary as everything was so much bigger but once I got over the fear factor, I realised it was easier because I had more room to do bigger tricks. The Brits are mental but it's great fun and you get to hang out with your mates."
She was remarkably philosophical about her injury, which happened when she "knuckled a jump" in a World Cup in Mammoth, California, and caused her to miss the 2012 X Games in Tignes, the Junior World Championships and the Brits.
"It wasn't nice being told I had to stop skiing and have surgery. But so many other professional riders have had similar injuries. It was just a matter of spending time in the gym and building my knee up again."
She took her first tentative steps on snow at the Chill Factore in Manchester and admitted to feeling scared beforehand but she needn't have worried as her knee was fine.
Summerhayes then surprised even herself when she finished on the podium in Silvaplana, "I would have been happy with a top 10", she conceded.
The freestyle team will spend the summer in the United States and New Zealand fine-tuning their skills and tricks before the Winter Olympic season starts in earnest.
Incidentally, Summerhayes has become the first woman in competition to achieve a switch 12, which is 3½ spins after approaching a jump backwards.
"The major ski nations find it funny that we learned on dry slopes. Let's see what happens in Sochi," she said with a wry smile.