World Curling Championship: Scotland miss out on gold medal
Last updated on .From the section Winter Sports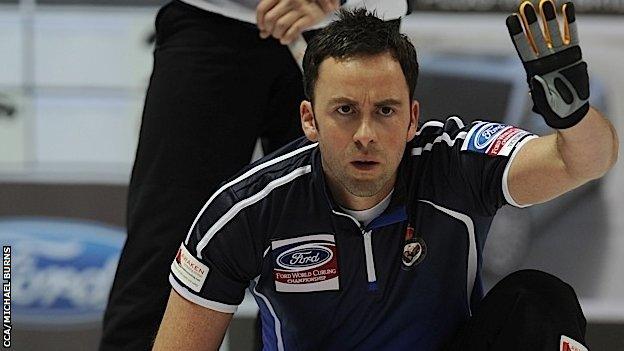 Scotland's gold medal hopes ended with defeat by Canada in the semi-final of the World Men's Curling Championship.
Scottish skip David Murdoch tied the game at 2-2 in the fifth end but the Canadians excelled in the sixth before eventually winning 6-3.
Canada will take on Sweden in Sunday's final after the Scots contest the bronze medal game with Denmark.
"Those guys played extremely well I have to say," said Murdoch. "They had a great game."
"They've got a bit of momentum and they've got the crowd behind them - they put on a good show.
"We had a couple of chances, but it's just disappointing because we've had a great week. All the guys are playing well and I've been throwing the rock as good as I have done for a long time.
"I don't want to leave here without a medal this week. I think we've been one of the best teams here and we're going to come out hard [on Sunday]."
Canada skip Brad Jacobs commented: "I think we lost four of our last six games in the round robin, but we've managed to scrape our way into the final.
"I think it says a lot about our character, the way that this team has been able to park those losses and come out knowing what we're capable of doing, and then going out and doing it.
"It's just phenomenal. We're grinders, and we don't like to do things the easy way, apparently.
"I'm really looking forward to playing Sweden in the final. They're friends of ours off the ice and rivals on the ice.
"Hopefully it will be everything that everyone expects, a back-and-forth battle and a shootout. Hopefully both teams can provide that."